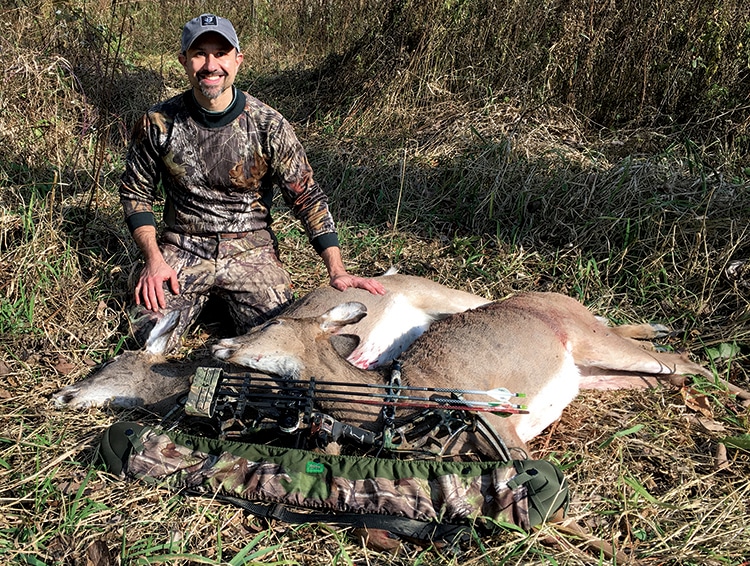 White-tailed deer are the most important game species in North America. More hunters pursue whitetails than any other species, and whitetail hunters contribute more financially than any other hunter segment. Collectively speaking, whitetails are the foundation of the entire hunting industry. That's why each year QDMA gathers data from state and provincial wildlife agencies, the nation's leading deer researchers, and other sources to provide the only "State of the Whitetail" available: our Whitetail Report.
So, how are whitetails and deer hunters doing? There are some very positive trends occurring, and you can get the complete picture in our 2019 Whitetail Report available now for download free at QDMA.com. Some of these trends we have talked about before. For example:
The average percentage of 3½-year-old and older bucks in the buck harvest was 34 percent. This was near the highest national average ever reported and shows hunters now shoot more bucks that are at least 3½ years old than 2½ years old. Since 2001, the buck harvest age structure has changed dramatically. In 2001, for every 3½-year-old or older buck, hunters shot two to three yearling bucks. Today, the numbers are virtually identical (35 percent yearlings vs. 34 percent 3½-plus). Hunters are clearly reaping the benefits of more naturally balanced age structures in herds across the whitetail's range.
Hunters from the Midwest, Northeast and Southeast (three regions that are home to approximately 97 percent of the whitetails and 97 percent of hunters in the United States) shot nearly 2.9 million antlered bucks and over 2.8 million antlerless deer in 2017-18. The buck harvest was 6 percent above the five-year average, while the antlerless harvest was 9 percent below the five-year average and has dropped 18 percent since 2008. This was the first season since 1998 that U.S. hunters killed more antlered bucks than antlerless deer.
But let's dig a little deeper into the latest Whitetail Report and look at what I feel are 10 of the largest current national issues and trends.
Bowhunting is on the Rise
Firearms (rifle/shotgun) hunters accounted for 66 percent of the total deer harvest. Archers took 23 percent of the total harvest, and this statistic has grown from 15 percent in 2000.
Freezers are Being Filled Early
More than a quarter (26 percent) of the total deer harvest was in the freezer before opening day of the primary firearms season. As a region, the Northeast shot the most pre-firearms (32 percent), and New Jersey led the nation with 52 percent.
Tracking Dog Legality
Use of tracking dogs to retrieve wounded big game animals is now allowed in at least 35 states. Their use ranges from about half of the states in the West to all states in the Southeast. Twenty-five of the 35 states require dogs to be on a leash in at least some situations. See the map below for more information. Editor's Note: North Dakota and Wyoming recently passed legislation legalizing the use of tracking dogs on leashes, with the change effective before the 2019-20 hunting season.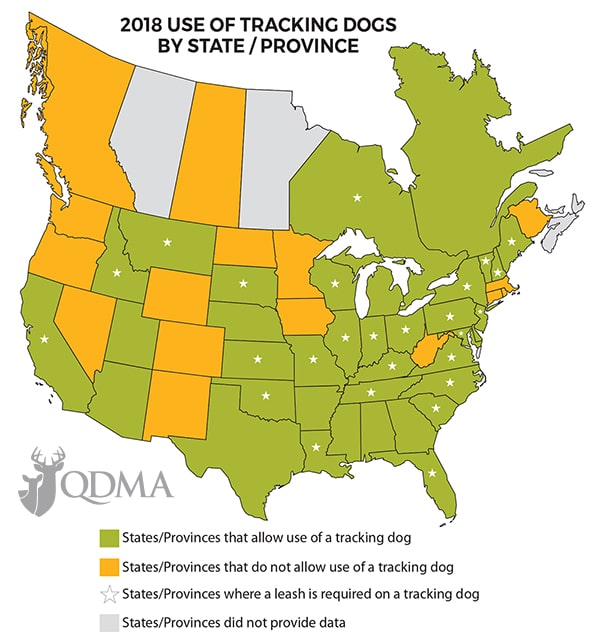 1 in 10 Taken on Opening Day
Eleven percent of the total deer harvest was taken on opening day of the primary firearms season. As a region, the Midwest shot the most on opening day (16 percent), and Minnesota led the nation with 27 percent. That's the place to be on opening day!
Bowhunters Per Square Mile
There are approximately 3 million bowhunters in the United States. As a region, the Midwest has the most (1,330,127) and the Northeast has the most per square mile (3.8). Individually, Pennsylvania has the most bowhunters (339,600) and the most per square mile (7.6).
Individual Hunter Success
In 2017-18, 41 percent of hunters shot at least one deer. This was down from 48 percent in 2011, and ranged from 12 percent in Arizona to 69 percent in South Carolina. It's important to note hunter success rates are impacted by many factors including deer density, hunter density, bag limits, antlerless opportunities and more. Notably, only 15 percent of hunters shot more than one deer in 2017-18. QDMA's Matt Ross met that achievement in 2018 when he killed two does while bowhunting (photo above).
Longer Seasons, More Days Afield
Hunters averaged 12 days hunting deer in 2017. This ranged from three days in Indiana to 25 days in Mississippi. As a region, Southeast hunters averaged the most (19 days), and this is directly related to longer average season lengths in the Southeast.
Deer-Vehicle Collisions Climbing
U.S. drivers collided with an estimated 1.3 million deer from July 2017 to June 2018. That's 8 percent more than in 2012 and 32 percent more than in 2003. Regionally, the Midwest had the most (459,431), and the Northeast had the most per road mile (0.35). Individually, Pennsylvania led the country with the most accidents (141,777) and the most per road mile (0.57).
More States Ban Deer Urine
Use of natural deer and elk urine is a hot topic, and eight states now prohibit its use because of chronic wasting disease (CWD) concerns. At least three additional states prohibit it in CWD disease zones. See the map below for more information.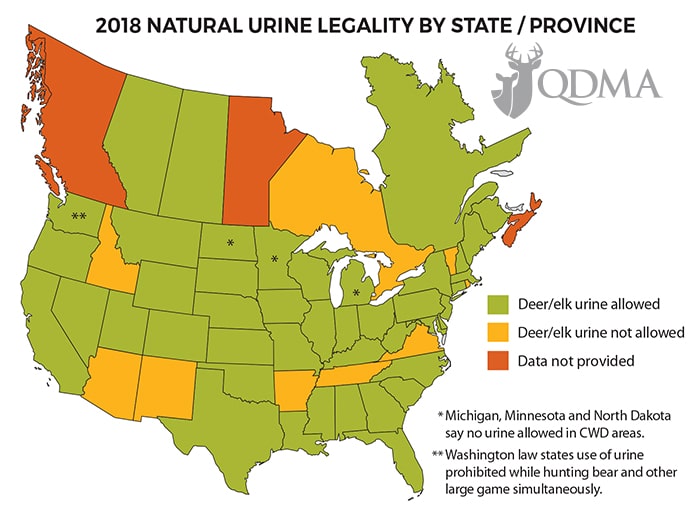 Disease Update
Finally, no list of current issues would be complete without a disease update.
Hemorrhagic disease (EHD and bluetongue virus) was confirmed in free-ranging deer in 14 states in 2018. Those states occurred throughout the whitetail's range, and were not confined to any specific region. Bovine tuberculosis continued impacting deer management in northeast Michigan. Also, the Asian longhorned tick was confirmed in eight states, and the tick responsible for the alpha-gal red meat allergy continued to impact more humans.
CWD is now confirmed in 26 states with Tennessee being the newest. Important notes from research show CWD-positive deer die at three times the rate of healthy deer, and CWD-positive deer are less active than healthy deer. Neither of these findings are good for hunters or deer management programs. The best ways to stop the spread of CWD are to stop moving live deer and the high-risk parts of harvested deer.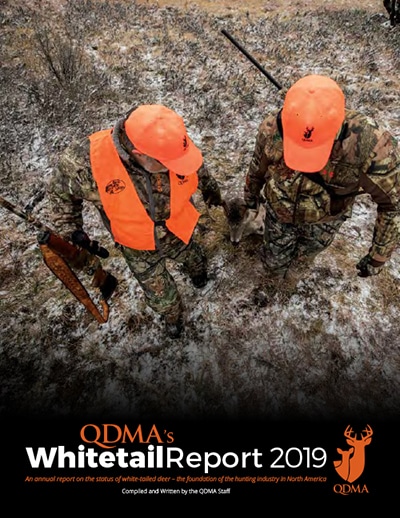 Our 2019 Whitetail Report includes state-by-state and province-by-province data for all of these issues from the 2017-18 hunting season, the most recent season with data available from every state with whitetails. Other Whitetail Report chapters include information on fawn recruitment rates, deer processors, where lighted nocks and expandable broadheads are allowed, hunters and habitat surveys, and much more. Download the full report and see how your state compares to your neighbors and other regions.
Compiling the annual Whitetail Report and everything else QDMA does on behalf of deer hunters and whitetails is made possible by the support of our members. Thank you! And if you're not a member, we hope you'll consider joining today and supporting our non-profit mission to ensure the future of white-tailed deer, wildlife habitat and our hunting heritage!