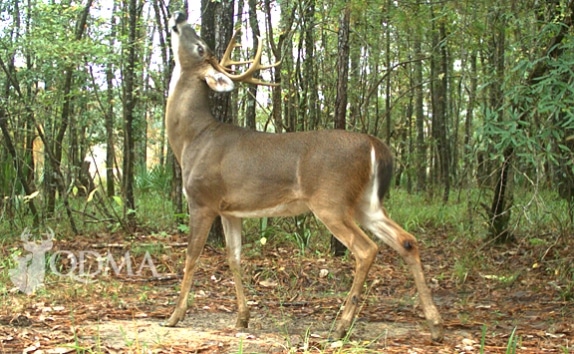 I'm just back from one of my favorite hunting trips of the year, one where I never do any actual hunting. It's the annual meeting of the Southeast Deer Study Group, a two-day barrage of 36 PowerPoint presentations and 20 poster-board exhibits updating the latest in whitetail science and management issues. This is a gathering of professional wildlife biologists, professors and college students from all over the country (not just the Southeast), and though they are almost all deer hunters, at this meeting they speak to each other in the language of science. Over the years I've attended, I've learned to translate jargon like "spatio-temporal" (space and time), "neonates" (fawns), "hazard ratio" (risk level), "mortality event" (it died), and "Bayesian framework" (actually, still no clue on this one). This is how I knew a presentation on Spatio-Temporal Individual Specialization of Mature Male White-Tailed Deer was likely to be far more cool than its title.
QDMA attends this annual meeting to listen in, translate, and then provide deer hunters with the most useful and interesting information. There were several noteworthy presentations at the 2016 meeting, and we'll be talking about some of them in more detail in coming issues of Quality Whitetails magazine. To make sure you receive them, become a QDMA member today. For now, here are 10 snapshots of data I gathered for you.
27% – The difference between daylight and night movements of 19 bucks and 19 does on weekends after the start of rifle season in Alabama. Kevyn Wiskirchen of Auburn University tracked the GPS-collared deer on four study sites, two of which are WMAs. Though daylight movement was 27 percent less than night movements on weekends, the rates for day and night were essentially the same on weekdays during the same period. In fact, the lowest point of overall weekly deer movement rates was immediately following weekends in hunting season. The highest? Thursdays and Fridays before the hunters returned in force. Go ahead now and request vacation days from work on every Thursday this fall.
2,226 – Number of bucks "culled" over a seven-year study on more than 20,000 acres on the Comanche Ranch in Texas – including "moderate" and "intensive" culling treatment areas where bucks of certain ages that didn't meet specific antler criteria were removed. The intensive treatment removed so many bucks that it resulted in a sex ratio of only one buck per six does, but neither moderate nor intensive treatments resulted in a decrease in the proportion of smaller-antlered bucks meeting the culling criteria. Results are still being examined, but Masa Ohnishi of the Caesar Kleberg Wildlife Research Institute at Texas A&M-Kingsville suggested that if culling produces any benefits, they require many years – if not decades – to become noticeable due to the low numbers of fawns sired over time by individual bucks. And this is in a scientific study using harvest techniques far more efficient and intensive than could ever be replicated by recreational hunters.
Side comment: This is another in a series of studies that has undermined the supposed benefits of "culling" deer. As QDMA teaches, the best approach is very simple: Set a realistic age-based harvest goal for bucks based on your experience and QDM progress, then kill bucks that meet it. Adjust the goal upwards, if you want, as you build buck age structure and advance in experience.
12.4 – Estimated death rate in deer per square mile across three counties in northwestern North Carolina (Caldwell, Surry and Wilkes) during the 2012 epizootic hemorrhagic disease (EHD)outbreak, a record year for EHD across the United States. Northwestern North Carolina was hit particularly hard that year. Chris Kreh and Brad Howard of the North Carolina Wildlife Resources Commission surveyed 18 miles of streams in those counties to estimate numbers of deer killed by the viral disease, which is spread by biting gnats. The estimated rate of 12.4 deer per square mile was actually higher than the normal harvest rate in those counties by hunters: seven to 10 deer per square mile.
109 inches – Average gross Boone & Crockett score for 5½-year-old bucks killed since 1982 at the Deseret Ranch in central Florida. The figure was the same for 4½-year-olds and only 7 inches greater than for 3½-year-olds. Abe Woodard, wildlife biologist at Deseret, said that antler growth increased as it should from 1½ to 3½ but then slumped for older ages – a result, he said, of harvesting bucks by antler score and not age. Without considering age, hunters are killing bucks with the greatest antler potential before they reach their maximum lifetime antler potential at 4½ to 5½ years. "This information should help deer managers in poor-quality soils realize the potential of those deer at maturity," Abe said. Take-home lesson: Select bucks for harvest by age, not antler score. Abe presented his findings in the meeting's poster exhibit, and he's seen below.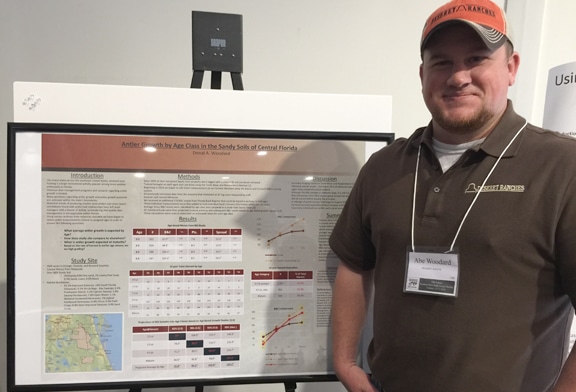 1 – Number of radio-collared adult does killed by a train in a study of doe survival by Dr. John Kilgo of the U.S. Forest Service's Southern Research Station. For 138 adult does followed over seven years on the Savannah River Site in South Carolina, neither trains nor coyotes were significant causes of death – although coyotes have been found to take considerable numbers of fawns in studies at the same site. "We did not detect predation as a cause of death among our sample, although some causes of death were unknown," John said. "I'm not saying coyotes don't kill adult deer, but it's not frequent enough to be a problem."
24% – Loss of body mass from the pre-rut to the post-rut for 5½-year-old bucks in a study by Aaron Foley of the Caesar Kleberg Wildlife Research Institute at Texas A&M-Kingsville (the equivalent of a 200-lb. man dropping to 152 pounds in two months). This represented the peak of body-mass loss during the rut (and thus investment in rut activity) for any individual buck age class. However, bucks 6½ to 10½ years old continued to invest heavily in rut activities, losing 21 percent of their pre-rut body mass on average. This was also presented as a poster display, and Aaron is shown below with his poster.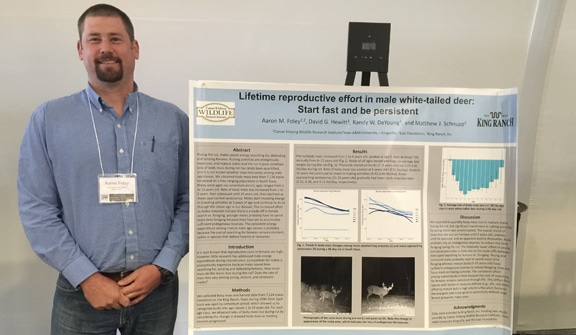 14,000 – Approximate number of deer checked by New York Department of Environmental Conservation (NYDEC) staff each year at deer processors throughout the state. Data collected from this sample of the harvest helps establish reproductive rates, harvest levels, antler metrics, age structure and sex ratios of the harvest. James Kelly of NYDEC reported the agency is looking at ways to refine their wildlife management units to more efficiently gather data and manage New York's deer populations.
2.3 times – Increase in the odds that hunting will be allowed on a private property when that land has been in the hands of its owner for at least 30 years. Conner Burke of North Carolina State University studied key geographic, social and demographic variables that best predicted whether or not landowners choose to allow hunting, information that can help ensure continued hunting access in changing urban/rural landscapes.
73% – Marriage rate among deer hunters in the southeastern United States, which is interesting considering the marriage rate for the general population in the same region is 50 percent. Mark Duda of Responsive Management, a public opinion research firm specializing in natural resources, presented this in a talk titled "Who is Today's Deer Hunter?" He also noted the good news that 78 percent of the American public support deer hunting, and the small percentage who "strongly oppose" deer hunting has actually been on the decline in recent years.
97% – Proportion of state wildlife agency Deer Project Leaders who ranked themselves as "avid" to "very avid" deer hunters. QDMA asked these leaders to do this for our 2016 Whitetail Report, and our own Matt Ross presented this information at the meeting. He urged state agencies to promote the fact that their professional deer managers are also passionate deer hunters to help foster better relationships and communication with their hunter constituents.
It's reassuring to me to know that these hunter/researchers are out there trying to learn things that can help us be better hunters and stewards of whitetails. And there's a step you can take to support them: Join QDMA today. QDMA helps direct needed funding and support to deer research projects like these. With your assistance, we can do more.
If my report from the 2016 Southeast Deer Study Group meeting isn't enough to satisfy your craving for deer science, here are 33 more findings I've reported from previous meetings of the group.