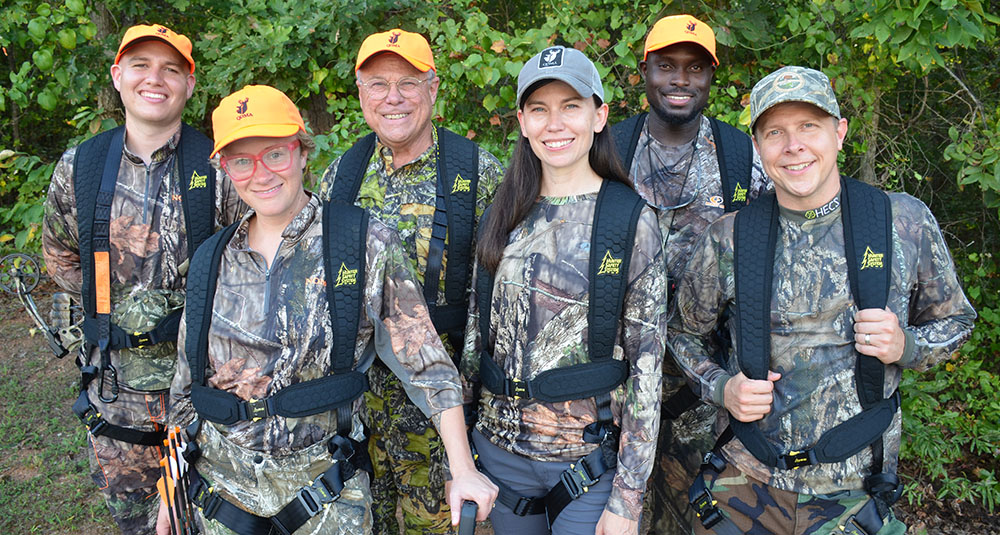 80 percent of hunters in the U.S. are deer hunters. We are the largest segment of the hunting population and contribute more to conservation efforts than all other types of hunters combined. Surprisingly, less than 1 percent of deer hunters belong to a deer-related conservation organization. Compare that to 41 percent of duck hunters and 8 percent of turkey hunters who belong to organizations specific to their passion. Why is that? Since QDMA leads the way in ensuring the future of white-tailed deer, wildlife habitat and our hunting heritage, that is a question we frequently ponder.
Perhaps part of the problem lies in some common misconceptions surrounding QDMA. One of the most frequent we hear is that QDMA is only for those who own land. And while it's true we provide a lot of great content and information for those who own or manage hunting land, that is only a fraction of what QDMA is about. In fact, 35 percent of QDMA members own no hunting land at all — myself included. For those folks, the organization still provides plenty of benefits which I will outline below.
Others have been lead to believe QDMA is all about growing and shooting trophy bucks. Not true. QDMA has never been focused on inches of antler. We do promote protecting most or all of your yearling bucks and harvesting an appropriate number of does, as needed, to create a healthy, balanced deer herd — one that provides a more rewarding hunting experience. But even that aspect of QDM doesn't define what the organization is about. Every deer hunter stands to benefit from what QDMA has to offer and, because of that, here are five reasons all deer hunters belong in the QDMA.
We'll make you a better deer hunter and manager
If you own or manage hunting land, great! You'll love all the information QDMA provides through our website and magazine, Quality Whitetails, about improving hunting land for deer and other wildlife. You'll learn all about planting and maintaining food plots, as well as habitat management techniques such as hinge-cutting, prescribed fire, timber stand improvement, and more.
If you don't own land, that's okay too. QDMA also publishes lots of great information on deer biology and behavior, and hunting techniques for the beginner and advanced hunter alike.
If you want to really take your deer and habitat management skills to the next level, you can register for one or more of QDMA's various Deer Steward courses, where some of the top deer and habitat experts in the country share their knowledge.
You'll help fund important deer research
Over the next five years, QDMA has committed to funding $1 million in research, on-the-ground management, and technical assistance for white-tailed deer. The research will cover a variety of topics from deer behavior to disease issues such as CWD and EHD. Deer behavior research can provide information that not only allows us to better manage wild deer herds, but also that can make you a better deer hunter by understanding why deer do the things they do. Additionally, research looking into some of the major disease issues, predation, and competition from invasive species like feral hogs is critical to QDMA' s mission of ensuring the future of white-tailed deer.
You'll help introduce first-time hunters to deer hunting
The future of our hunting heritage is directly tied to our ability to increase the number of hunters and pass our passion for deer hunting to the next generation. QDMA has a strong commitment to lead the way in creating hunting mentors and getting more first-time hunters in the field. Programs like our Share the Hunt™ and Field to Fork are doing just that, and QDMA is constantly working to expand these programs into new areas. But we need your help. A recent survey of our QDMA membership revealed that 76 percent of QDMA members, or approximately 43,000, mentored at least one hunter last year, with an average of 3.7 hunters per mentor. When combined with QDMA's Share Your Hunt™ program and other mentor initiatives, QDMA mentored approximately 160,000 hunters in 2016. Our current goal is to increase that number to 200,000 per year over the next five years. Your membership dollars will help us to provide the resources necessary to make this happen. And just as important as your membership is your willingness to reach out and take someone new hunting each season, whether it be a family member, neighbor or coworker.
You'll help us advocate for wild whitetails at the local, state, and national levels
Most deer hunters have no idea that our hunting heritage is constantly under attack. These threats come in many different forms at the local, state and federal level. Due to QDMA's membership and strong support from the professional wildlife community, it is the most respected and influential whitetail organization in North America. As such, QDMA serves as the leading advocate for the wise management of deer and the protection of our deer hunting heritage. Since 2006, QDMA has engaged in over 1,000 policy issues impacting wildlife, habitat and our hunting heritage. But we need your help.There is strength in numbers, and since the threats to our hunting heritage will only grow stronger and more frequent, deer hunters need a robust, unified voice for wild whitetails.
You'll be connected with like-minded deer hunters in your area
If ensuring the future of white-tailed deer and deer hunting isn't enough incentive to interest you in joining QDMA, maybe the opportunity to connect with other like-minded deer hunters will. Becoming part of a local QDMA Branch is a great way to make new friends and find new hunting partners. It's also an excellent outlet for sharing ideas, management strategies, and even trail-camera photos. Additionally, as part of a larger group, you'll have the opportunity to raise funds and make a positive impact for deer and other wildlife right in your own community.
In conclusion
The future of white-tailed deer and deer hunting is in our hands. It is each of our responsibilities to recruit the next generation of hunters, to advocate for our hunting heritage and support sound wildlife management principles. The easiest way to do these things is by joining a group of like-minded deer hunters with a strong, unified voice. QDMA is that unified voice. If you're a deer hunter, you belong in QDMA. Join today!
For more information about QDMA's aggressive 5-year mission goals, check out this article.