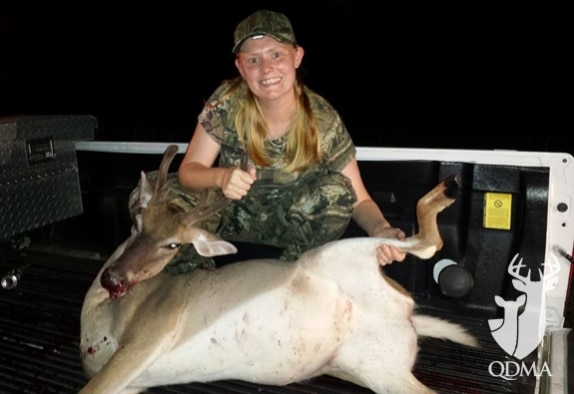 Driven by the memory of tasty venison dishes at her grandparent's home, Adrianna Cockerill of Eastover, South Carolina, was determined to become a deer hunter and carry the family tradition of providing deer meat for the table. She didn't hunt on August 15, opening day of the 2014 deer season in eastern South Carolina because she was occupied with securing a hunting license and the necessary camouflage clothing.  However, she hunted each day for the next week and observed only does and fawns – nothing with antlers. Then, on Saturday, August 23, this first-time huntress would make history. She finally saw antlers and the hunting story began unfolding quickly.  Overcome by a case of the "nerves" initially, Adrianna had to lower her rifle, take a few deep breaths, and regain her composure. With only minutes of visibility remaining on this fateful afternoon hunt the crosshairs found their mark and the deer became a young hunter's #FirstDeer. Once the deer was loaded into the bed of the truck Adrianna discovered that this was truly a deer-of-a-lifetime – it was an antlered doe! Now, she had fresh venison for family and friends AND she had an unusual story to tell about her first deer!
Caribou are the only members of the deer family, Cervidae, in which both males and females have antlers. There are exceptions among other deer species though, but they are quite rare. Usually, when female deer have antlers it is a reflection of an elevated level of testosterone, a hormone common among males. In most cases the antlered females continue to exhibit normal reproductive behavior. Adrianna's deer clearly exhibited the physical attributes of a doe and was expected to be a normal female with the exception of her antlers.
In other instances of "strange" antlered deer, the animals could be bilateral cryptorchids (testes remaining in the body cavity), hypogonadals (bucks with atrophied or underdeveloped testes), or hermaphrodites (animals with both male and female sex organs). Deer in these three categories are not part of the reproductive equation and can be considered real oddities.