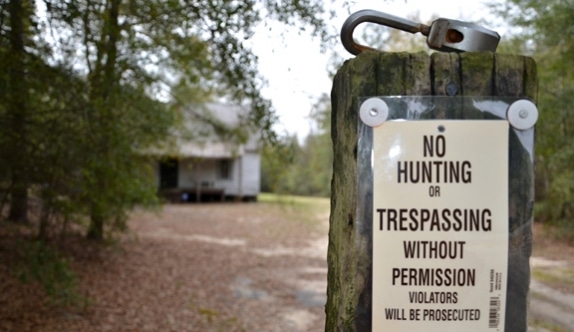 Hunters pursue their prey by identifying predictable patterns. We try to locate a buck's core area through sightings, trail-camera photos, or sign like rubs and scrapes. Similarly, trespassers use many of the same techniques. While I wouldn't categorize a trespasser as a hunter, trespassers do possess a predatory mentality. Their prey just happens to be you.
Avoiding patterns will not prevent the casual trespasser. It will, however, ward off the chronic problems, which ultimately can be the most damaging to a QDM program. It is the chronic trespassers who routinely disturb deer activity and who are most likely to kill a deer while on your hunting land. More than a decade of wildlife law enforcement experience taught me that most hunters become aware of a trespassing issue only after a deer has been poached.
I have spoken to numerous trespassers who admitted they studied certain patterns to aid their "success." That's how I learned four ways you can avoid being patterned by trespassers.
Always Lock Your Gate – To always lock your gate as you are leaving your hunting land isn't an Earth-shattering concept, but locking it each and every time you pass through it could be. Many people leave their gates completely open during their stay simply because they are there and feel they can monitor activity. They only feel required to close and lock the gate when they are absent. This is an easily identifiable pattern, as most gates are located on or near high-traffic roadways with high visibility. Once potential trespassers know you only lock your gates when you are away, they simply have to drive past your gate to know if they have the green light to go onto the property.
Extra Tip – Once you begin to continually lock the gate, be observant for sticks leaning against it or branches lying in the roadway. Chronic trespassers use this technique as another tool for detecting your traffic patterns.
Timing Is Everything  – Most of us have limited opportunities to visit our hunting land. More often than not, weekends are high-use periods. This leaves a property open for the vast majority of the year. To break up this pattern, swing by every chance you get. You may drive into the camp only to turn around and leave, but its fresh activity. The mudhole will now show fresh tire tracks, and anyone who might be nearby will hear your vehicle. A simple drive-by also allows for visits at varying times of the day. A morning visit might be followed by an afternoon or evening visit, followed by another afternoon visit. The further you live from the property, the more often you need to visit, as trespassers target absentee landowners. You can also provide your local conservation ranger with a key to your gates and ask them to swing through if they are in the area and have time, increasing random visitation.
Extra Trip – A good way to let locals know you're in the area is to stop by the neighborhood coffee shop or gas station as you pass through. You'll be seen by a variety of folks, one of whom may be your potential trespasser.
Don't Leave The Light On For Them – How many of you with a cabin or hunting lodge leave a specific light on when you're away? Understandably, this is done to deter the casual burglar or trespasser. However, our goal is to deter the casual as well as the chronic. To do this, leave random lights on and not just the porch or entryway. Leave the porch light on one time, then leave on the entryway the next, and so on. Again, the goal is to break up the pattern. This can also be true of equipment or implements. For most of us, everything has its place, and we ensure it is tucked away in that place when we leave. On occasion, leave the disk harrows or cultipacker in front of the shed or at the edge of the entrance road. By leaving something out of place, you grab the attention of someone looking for anything out of the ordinary. It instills suspicion that you might be around.
Extra Tip – When you stop in for a quick drive-by, turn off one light and turn another on. You might even fire up the tractor or an ATV and move it to a different location. Anything that is a change from the norm is going to be noticed.
Follow Through – Way too often, landowners fail to follow through by prosecuting trespassers when they are caught in the act. We all talk a big game, but the compassionate side of many people comes out when they are faced with an actual trespasser. This is something many trespassers count on. You will hear things like, "I'm out of work," or "I didn't know where I was." While there may be some truth in their statements, it is irrelevant to the fact that they are on your property and in all likelihood possess a gun or bow while there. Ultimately, it is the courts' place to decide the culpability of the violator, not yours. By not following through with prosecution, you have now established a pattern of leniency.
Extra Tip – Trespassing is a violation of landowner rights, it is not a violation of the people of the state, thus a landowner complaint is required to activate prosecution in most locations. This means you must formally file a complaint prior to an individual being charged for trespassing. 
Following these tips will aid in deterring trespassing issues only as a compliment to other steps, like routine posting and painting of boundaries, positioning food plots out of sight of public roads, and staying in regular contact with your local wildlife law enforcement officer. In the end, it will be your efforts that prevent trespassing problems, and if you find yourself falling into a predictable routine, break the pattern to avoid becoming the prey of criminals.