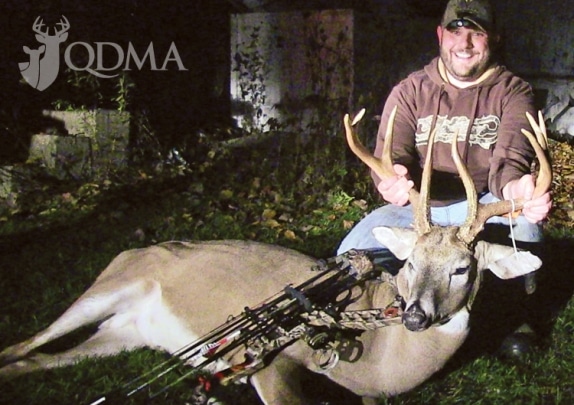 When my neighbor Lucas Kennard saw his first trail-camera photo of the "Big 6," he spoke out loud his first thought: "Whoa!"
The view of the deer walking through a brassica plot in velvet revealed a tall, narrow, 6-point rack with curling brow tines estimated to be about 8 inches long.
A few days after Luke retrieved this picture, I called him up.
"Do you have pictures of that 6-point?" I asked.
No other description was necessary. Luke knew which buck I was talking about, and our conversation that day led to a meeting with about six of our fellow neighbors who are members of the Bean Creek QDM Cooperative in southern Michigan. This was in September 2013, and with hunting season approaching we gathered to share trail-camera pictures, including a picture of the Big 6 in velvet from the summer of 2012 – displaying the oddly shaped, sweeping brow tines which almost met in the center.
Our Cooperative has been in place since 2009. Fellow QDMA member Jake Ehlinger and I started it in the spring of that year by going around and knocking on doors of neighbors and holding educational meetings. As the 2013 archery season approached, we were a Mini-Cooperative amounting to six hunters with contiguous properties making up about 380 acres. The area has superb habitat. A buck can travel for 1.6 miles without leaving heavy cover, crossing a road, or leaving three properties that are protecting immature bucks.
When meeting again to share photos in 2013, Luke and I both saw pictures of deer we'd never seen before. We went from thinking there were only one or two shooters on our properties to knowing there were at least three or four, and they were likely using both of our properties and those of our neighbors.
"Deer that I was initially thinking, 'Yeah, I would shoot that,' automatically became a hard 'No' because of the bigger deer the neighbors had on their cameras," Luke said.
As the 2013 season progressed, none of us actually laid eyes on the Big 6, but we had many pictures, including one taken on November 9.
"Seventeen minutes after I pulled that card, the Big 6 walked by that same camera, and while I know it's not possible, I would swear he had a smile on his face as he strolled by my camera," Luke said.
On December 1, sitting in my stand with my crossbow, I saw the Big 6 in the flesh for the first time, just before dark. For the first time, he showed up in broad daylight about 80 yards west of me. Here I sat, looking at the Big 6, watching him work a licking branch and slowly shuffle his way toward a doe and fawn heading in my direction.
When the doe was about 40 yards out, she was straight downwind. She stopped, raised her head, sniffed the air, and stiffened her posture. He wheeled and ran full speed to the south and the safety of the woods. A mere 30 minutes later, he had circled to the north and showed up on Luke's trail-camera.
(Note: The full full-length version of this article, along with more photos and information, was published in the June/July 2015 issue of Quality Whitetails magazine. To start receiving Quality Whitetails, become a member of QDMA today).
The 2014 Season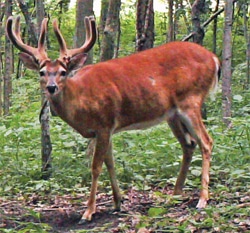 In July, Luke got his first 2014 picture of the Big 6, and man was he big (photo on the right). What was Luke's first instinct? He called me.
"Guess who I got a picture of."
He was sporting a wider, taller rack, a distended belly from a summer of living large, a thick, muscular chest and front shoulders, a neck that, though not swollen for the rut yet, arced all the way down to his brisket, and Schwarzenegger haunches. He stared at the camera as if to say, "Come and get me, boys."
On October 22, I called Luke and he did not answer. I would later find out that when his phone vibrated, Luke was at full draw and waiting for the Big 6, standing 18 yards away from him, to step forward. Luke drew his bow three different times as the Big 6 paced around below him for 10 minutes. The deer presented several shots, but none were quite good enough. Small twigs were in the way, or the body position was not right.
See a brief video Luke made of the Big 6 just before shooting him.
"That was torture," Luke told me later, "but I knew I couldn't chance a bad shot. This deer deserved better, and I would never forgive myself if I made a bad shot. Plus, I'm pretty sure you would kill me."
The third time drawing the bow was the charm, as the Big 6 stepped into the clear and Luke released. He watched the 263-lb. buck crash away through the brush. Luke found the Big 6 dead only 60 yards from where he was shot.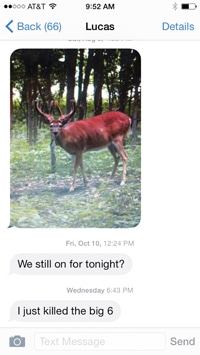 My phone buzzed with a text message.
"I just killed the Big 6."
A chill of excitement ran up my spine. I got to hear the story of the hunt and lay hands on the Big 6 later that night with a jubilant group of guys. The next day, I posted on Facebook that this was the greatest day of my deer-hunting life even though I had not gone hunting. To share in Luke's celebration was affirmation of the hard work by the members of our local Cooperative. Surely someone in our Cooperative had passed this buck when he was a yearling. Members of the core group gathered at my house a few days later, admired the rack, looked at pictures and videos, and discussed who else was left out there. There was a buck we called the "Other 10." Luke told me that now that he had killed the Big 6, he was going to pass the Other 10 and two beautiful 8-point bucks, "Curves In" and "Curves Out," that could only be distinguished by the curve of their brow tines. He told me he wanted me to shoot the Other 10. We were no longer just friendly neighbors but were friends, each rooting for the other to succeed.
Eight days later, I watched the Other 10 work a licking branch and scrape right at dusk, but at 60 yards he was out of range. On November 1, I learned that for the previous three days in a row Luke had gotten pictures of him at around 10:30 in the morning, angling toward my property. I made plans to be in my favorite stand, called the Giant Oak, the next morning.
I never got a chance to see the Other 10 that day. Instead, an unfamiliar buck appeared following a doe 13 yards to my left. Five seconds later I had put an arrow through his lungs. I watched him run for 21 seconds and fall in a grassy field. As I turned the video camera to capture my own smile, staring out toward the field where he fell I saw one of the curved 8-points – either Curved In or Curved Out – walking about 40 yards beyond where the buck fell. Indeed, the hunting was improving.
I had never seen "The Stranger" before, and 30 minutes later Luke and I stood in wonderment looking at a magnificent specimen of a whitetail. He would green score 153 inches as an 8-point, due mainly to the huge mass, and weigh in at 242 pounds, just 21 pounds lighter than the Big 6 (see a photo in the Gallery below).
Standing in the glow of our combined success and the overpowering smell of The Stranger's tarsal glands, we agreed that neither one of us would be the ones to kill the Other 10 this year. We also removed the two Curved 8s as targets. If our neighbors shoot them, fine, that would only strengthen the potential of the Cooperative.
Sharing and Trust
Our experience with the Big 6 changed us. Because of him, Luke and I began to take some risks with the information we each possessed. We shared information with each other and with other neighbors because we knew there was something out there worth taking a risk for. Because we were openly discussing what we did and did not intend to shoot, our integrity depended on following through, which led to increased trust and increased sharing.
In our neighborhood in southern Michigan, the landscape is peppered with small properties, most of which have several hunters on them. Historically, the existence of older deer has been rare. If you think of each hunter as a player in a game, the outcome of the game depends on the decisions they make. The prevailing strategy in my neighborhood for many decades has been to shoot the first buck you see, because if you don't shoot it, the neighbors will. Thus, your immediate interest is satisfied by shooting first and asking questions later, but the long-term interests of you and everyone else playing the game are diminished.
But what happens when you find out that your neighbor is making different decisions? Suppose you find out your neighbor is passing bucks because he feels it would be in both your interests if those bucks live another year? Suppose the neighbor proved to you that he is passing those bucks by showing you photographs and video of the deer walking past his stand, or other mature deer you may not know existed. Might you act differently once you know his strategy has changed? We did, but we went further than that.
We came to believe that sharing everything we know about the bucks in the neighborhood is in our own long-term best interest. The deer in our neighborhood are not limited by anything except the choices made by hunters. If we can have one or two bucks around like these every year, why not four or five, or more? Keeping the ones we know about secret will not help to change the culture in our neighborhood.
Letting people know what is out there (if they are willing to wait for it) may very well change the game, turning it into a cooperative game that benefits everyone. Only time will tell, but I believe our future is bright.
About the Author: Dr. Jim Brauker of Michigan is a QDMA member and owner of Extreme Deer Habitat, a website devoted to teaching land management techniques for small-property owners. He is a certified Property Inspector for QDMA, a Level II QDMA Deer Steward and author of the book "Extreme Deer Habitat." He has been a featured speaker at multiple QDMA Branch events and National Conventions.