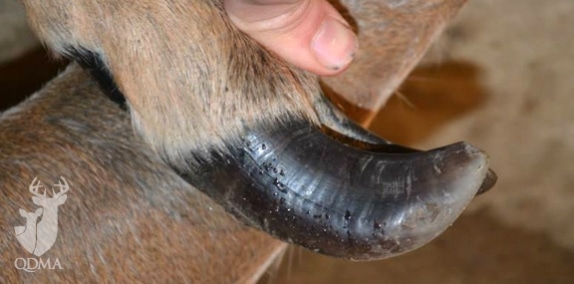 I received an email from QDMA member Justin Forsten of Louisiana, a Level II QDMA Deer Steward, who sent some interesting photos and a note:
Hey guys hope you all are doing well and either had or are having a great season! I wanted you all to take a look at the hooves of a buck I killed on the evening of December 11, 2013. As you can tell from the pictures, his hooves are longer than any I have ever seen. I seem to remember reading that this could be the result of consuming too much carbohydrates in his diet but wanted to get your thoughts on what we are seeing here.

P.S. I had to show you all the hero shot too! (see the image below)

Justin Forsten
Wildlife and Timber Manager
Winter Quarters Hunting and Fishing Club
Justin is correct, "hot" feeds can cause "foundering" or elongated hooves. Founder is a condition of the hoof that's common in horses and to a lesser extent in cattle. It's often caused by a high proportion of an animal's diet being "hot" foods, meaning those high in energy. In deer, it's often the result of animals receiving a high proportion of their diet from supplemental feed or bait piles using high-energy, high-carbohydrate foods, especially corn. Some research also suggests it can be caused by a mineral imbalance – specifically a copper deficiency. Either way, ensuring high-quality natural forages and food plots are available year-round can prevent a dietary imbalance like this, so even if you provide supplemental feed, working to improve the habitat is still important to meet the year-round nutritional needs of whitetails.
Congratulations to Justin on a fine buck!