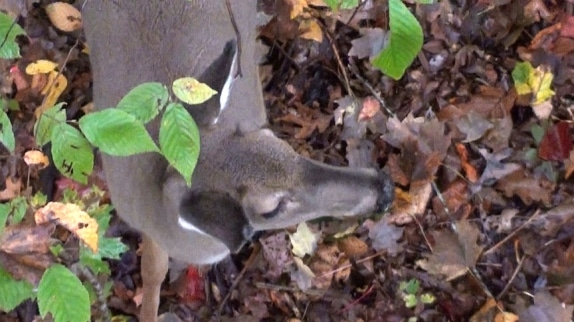 A Missouri doe nearly made a getaway with a very unusual disguise. Tufts of long black hair on its head, in the same location antlers would grow if it were male, made the deer look a lot like a button buck.
Allen Morris, a QDMA Life Member and Level III QDMA Deer Steward from Missouri, was completely convinced while bowhunting on October 4.
"I had been watching a spike and a button buck for about 15 minutes," Allen said. "I even have some great video of them at the bottom of my stand. I looked at the button buck closely through binoculars and still believed what I saw."
The two deer moved out of sight and eventually into range of Allen's hunting partner, who judged one of the deer to be a doe and shot it. It wasn't until he recovered the deer that he saw the tufts of hair.
"When he came to get me, he told me I was going to be disappointed because he shot a button buck," Allen said.
Back at camp, Allen saw the "buttons," but when he touched them he didn't feel any bone or pedicle under the hair. Checking the other end, he gave his hunting partner the good news: It was, in fact, a doe. Allen then reviewed his own video and realized the "button buck" he had passed up that same morning was the doe in disguise. Click on the image in the Gallery below to see a close-up photo of the strange tufts of hair.
"I've been hunting deer more than 30 years, and I've never seen anything like this," Allen said.
We at QDMA can't say we have seen this either. Have you ever seen or killed a doe with tufts of hair on its head that resemble antler buttons? Tell us about it in the Comments section.
For guidance on identifying and separating does and button bucks, QDMA sells an educational poster with photos.
Below is the video Allen shot. The best close up of the doe runs from 3:40 to the 4-minute mark.