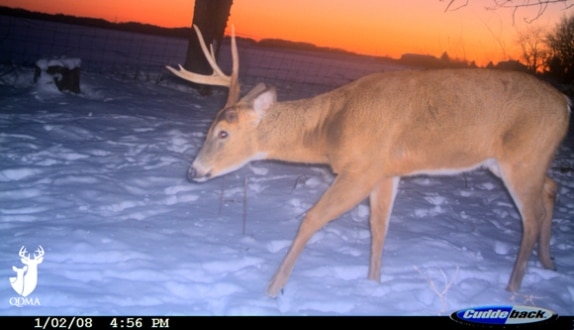 How tough is the rut on whitetail bucks? Extremely tough – at least for bucks with normal testosterone levels that participate in breeding competition. In addition to being pushed, pulled, poked, prodded and occasionally gored, most bucks also spend a lot of time on the go, and they can cover many miles during the course of a breeding season. All of that exercise burns a lot of calories and causes bucks to lose weight, even when they're eating a normal amount of forage. Now, combine all that additional exercise with a severely reduced diet and you can have significant weight loss. The photo above, shared with us by QDMA member Josh Holzapfel of Iowa, shows a classic post-rut, winter buck.
Another case in point, consider the photo below of a mature 10-point buck I photographed where I hunt in northern Pennsylvania in fall 2013. The photo was taken on November 8, just as the main portion of the rut began. Look at the size of his neck all the way from the brisket to where it joins his head, and study the fullness of the rest of his body. He's clearly in good condition.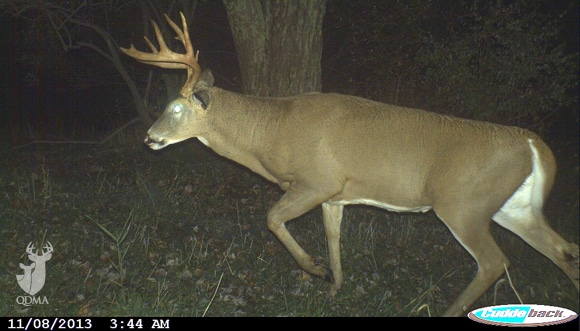 Now, look at a second photo below of the same buck, taken at the same location. I got this photo on December 23, after the rut was over. In addition to losing most of his right antler in a fight, this buck also lost a lot of weight and body size. Look how much smaller his neck, shoulders, stomach, waist and hindquarters appear in the post-rut photo.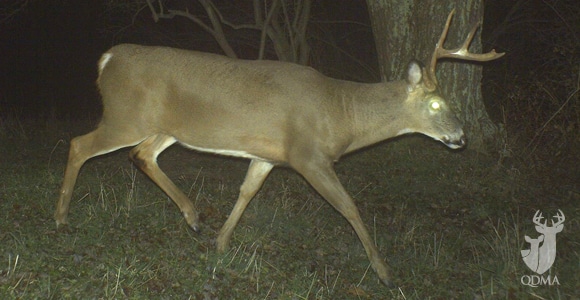 Bucks can easily lose 20 to 25 percent of their body weight during the rut, and these pictures show that perfectly. This is why deer hunters should strive to provide the highest quality habitat they can and balance the deer herd with the habitat. This way, bucks can get as heavy as possible during summer and fall, helping them survive this annual weight loss regime. This is also why it is important, when you're estimating the age of bucks on the hoof, to know the timing of buck photos or sightings relative to the rut. Post-rut weight loss can often make a buck appear younger than he really is.
By the way, I've captured photos of this buck for three years, and I still haven't seen him during hunting season!