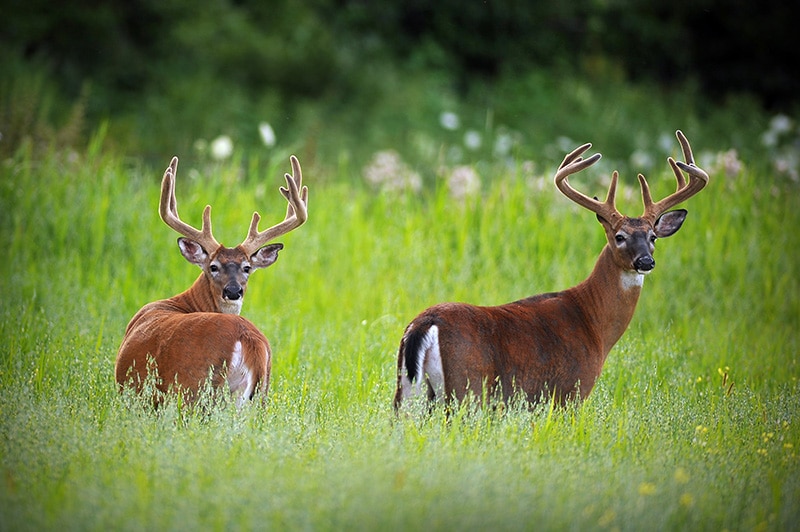 CWD Roundup is the National Deer Association's (NDA) bi-monthly update on all things chronic wasting disease (CWD). We'll provide the latest updates on CWD spread, research and policy from across North America. Updates are provided alphabetically by state and province.
Arkansas
A hunter-harvested white-tailed deer taken in Logan County on October 18 tested positive for CWD. Voluntary samples were submitted from the hunter through the Arkansas Game and Fish Commission's (AGFC) drop-off location in Logan County. The animal was displaying symptoms before being taken and represents the first positive in the county, although the county is already in the CWD Management Zone.
Mississippi
In late December, the Mississippi Department of Wildlife, Fisheries and Parks (MDWFP) received CWD positive test results for two hunter-harvested bucks from Tippah and Alcorn counties.  These are the first CWD-positive detections for these counties.  The samples are considered "suspect positive" through initial testing and will be sent to the National Veterinary Services Laboratory in Ames, Iowa for final confirmation.
Missouri
In late October, the Missouri Department of Conservation (MDC) reported it had confirmed the first case of CWD found in Pulaski County. The confirmed case is from an adult male deer harvested by a hunter near Waynesville.
Minnesota
In October, CWD was confirmed at a Houston County white-tailed deer farm. A 2 ½-year-old white-tailed doe tested positive for CWD after it died. The farm is located in the CWD endemic zone.
A wild deer harvested in Dakota County on November 7 (adult male) and a vehicle-killed deer in Olmsted County on November 4 (adult female) were confirmed positive for CWD. To date, 95 wild deer have tested positive for CWD in Minnesota.
Montana
On November 19, the Montana Department of Livestock received notification that a single game farm animal in Flathead County was confirmed positive for CWD. The animal was found as a result of mandatory surveillance of all age eligible animal mortalities in game farm animals in Montana. The animal was not exhibiting any clinical signs of CWD but was found dead on the affected premises.
In late November, Montana Department of Fish, Wildlife, and Parks (MFWP) notified the Blackfeet Fish and Wildlife Department that a tribal hunter harvested a whitetail deer that tested positive for CWD. The tribal hunter had voluntarily provided a sample to MFWP for CWD testing in Bozeman.
Nebraska
With the move to online deer checking for the November firearm season due to COVID-19 concerns, the Nebraska Game and Parks Commission did not collect samples to test for CWD. Targeted testing will resume for the 2021 November firearm season.
Ohio
In early December, the Ohio Department of Natural Resources (ODNR) Division of Wildlife identified a positive test for CWD in a wild white-tailed deer in Wyandot County. The adult male deer was taken by a hunter on private property, and tissue samples were submitted for testing by a taxidermist. The Division of Wildlife will implement its CWD response plan, which includes enhanced surveillance within a 10-mile radius of the CWD positive deer location in Wyandot County, and mandatory deer disease sample collection will occur on all remaining Killdeer Plains Wildlife Area controlled hunts.
Tennessee
An incentive program to increase the deer harvest in Unit CWD is being offered in partnership between the Tennessee Wildlife Resources Agency (TWRA) and the Tennessee Wildlife Resources Foundation (TWRF). Any hunter who harvests four antlerless deer and four antlered deer through Jan. 8, 2021 would receive a free Sportsman's license. Any hunter who harvests four antlerless deer through Jan. 8, 2021 will receive a free Type 001 license ($34) and a supplemental hunting equipment license of the hunter's choice ($33). Unit CWD is currently made up of 11 counties.
Virginia
In mid-November, the Virginia Department of Wildlife Resources (DWR) confirmed a hunter-harvested CWD-positive deer in Loudoun County. The adult doe was taken in October with a bow. Loudoun County is already included in Disease Management Area 2 (DMA2), and the boundaries of this DMA will not change based on detection of this CWD-positive deer.
On December 23, a CWD-positive deer was confirmed for the first time in Madison County. This adult buck was harvested during the regular firearms season. Madison County is already included in Disease Management Area 2 (DMA2).
Wisconsin
In early October, the Wisconsin Department of Agriculture, Trade and Consumer Protection (DATCP) confirmed that a whitetail deer at a Burnett County deer farm tested positive for CWD. The positive sample came from a 4-year-old whitetail buck. DATCP has quarantined all 19 deer at the 5-acre farm.
In mid-December, the Wisconsin Department of Natural Resources (DNR) confirmed that a wild deer tested positive for CWD in central Washington County, within ten miles of Ozaukee County. As required by state law, the DNR will enact a new two-year ban on baiting and feeding in Ozaukee County effective Jan. 5, 2021 and renew a three-year baiting and feeding ban in Washington County. The CWD-positive deer was an adult buck harvested during the 2020 archery deer season that was tested as part of the department's disease surveillance efforts. This is the first wild deer detection in Washington County.
Wyoming
In October, CWD was confirmed in Elk Hunt Areas 45 and 114 with positive tests from two hunter-harvested adult cow elk. Unit 45 overlays Deer Hunt Areas 41 and 46, which have been CWD-positive Unites for over a decade.
In November, CWD was confirmed in Elk Hunt Area 1 with a positive test from a targeted bull elk.
On December 16, The Wyoming Game and Fish Department's (WGFD) Wildlife Health Laboratory confirmed that an elk in Grand Teton National Park tested positive for CWD. The cow elk was harvested by a participant in the park's elk reduction program and tissue samples were collected as part of the park's mandatory testing program. This is the first elk to test positive for CWD in northwest Wyoming and in close proximity to elk feedgrounds.