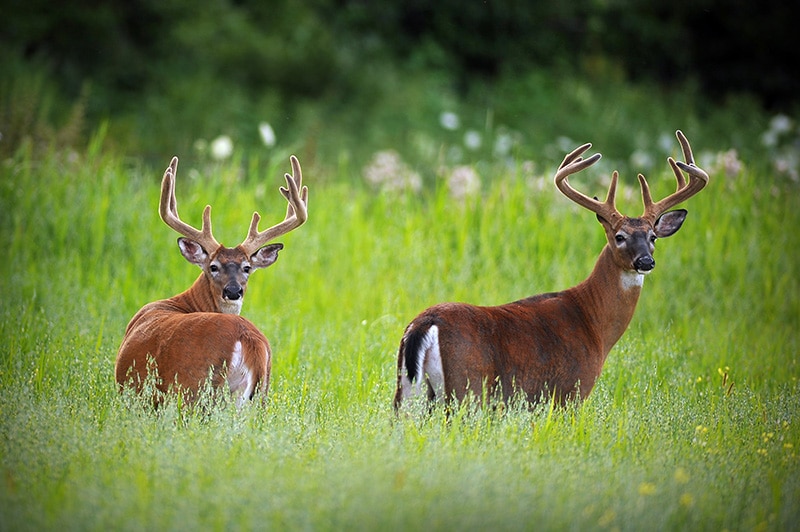 CWD Roundup is the National Deer Association's (NDA) bi-monthly update on all things chronic wasting disease (CWD). We'll provide the latest updates on CWD spread, research and policy from across North America. Updates are provided alphabetically by state and province.
Arkansas
In mid-February, the Arkansas Game and Fish Commission (AGFC) unanimously approved an update to the agency's official Chronic Wasting Disease Management and Response Plan. The original plan was finalized in 2006 and then amended in 2016 when CWD was first found in the state.
Colorado
In early February, the Colorado Department of Parks and Wildlife (CDPW) confirmed CWD in deer had been found in Area 15 in the Four Corners area after testing was done during the 2020 hunting season. Of the 1,489 deer checked, 18 tested positive.
Florida
In late February, the Florida Fish and Wildlife Conservation Commission (FWC) approved rule changes that prohibit importing or possessing whole carcasses or high-risk parts of deer, elk, moose, caribou and all other species of the deer family originating from any place outside of Florida.
Indiana
In early March, the Indiana Department of Natural Resources (IDNR) reported 893 wild deer in Indiana were tested for CWD through the end of the 2020-21 deer season – an increase from the 823 tested in 2019. No positive samples were detected.
Iowa
In late February, the Iowa Department of Natural Resources (DNR) reported that 2020 surveillance for CWD yielded 21 new positive detections. Two new counties – Jackson and Appanoose – were added to the list where deer have tested positive for the disease. These new counties are adjacent to existing disease management zones.
Minnesota
In early February, testing results from Minnesota's 2020 hunting season and early 2021 special hunts confirmed CWD in 22 wild deer, all within current disease management zones. 7,682 samples were tested from hunter-harvested deer or opportunistic samples (vehicle collisions, etc.). Nineteen of the positives were from deer in the southeast management zone and three were from the south metro management zone.
In late February, test results following the late-January depopulation of a Houston County white-tailed deer farm confirmed nine additional cases of CWD, including five does and four bucks. CWD was first detected on the farm in a 2 ½-year-old white-tailed deer in October 2020.
Montana
In early February, the Montana Fish and Wildlife Commission (MFWC) voted unanimously to approve the rule recommended by Montana Fish, Wildlife and Parks (MFWP) that requires all hunters to either leave the spinal column and head of deer, elk or moose hunted in Montana at the kill site or dispose of the parts at a sanctioned landfill.
In late February, MFWP reported that 318 samples were collected for CWD testing during a recent CWD management hunt for white-tailed deer in southwest Montana. The hunt was open December 15 through February 15. 305 of the samples have received a result, and 52 have tested suspect or positive for CWD. Hunting District 322, where CWD prevalence was believed to be especially high, produced 211 samples during the management hunt, and 51 of the samples — 25% — were suspect or positive for CWD.
North Dakota
In mid-January, the North Dakota Game and Fish Department (NDGF) reported 18 deer tested positive for CWD during the 2020 hunting season. A white-tailed deer harvested in unit 3A2 tested positive, providing the first detection in the unit.
Pennsylvania
In late January, the Pennsylvania Game Commission (PGC) provided some preliminary results from CWD sampling that's occurred since July 1, 2020. PGC collected more than 11,000 CWD samples from white-tailed deer. Hunters across three Disease Management Areas (DMAs) submitted almost 5,700 of those samples. Additionally, more than 3,100 CWD samples were collected statewide from processors. Thousands of samples still needed to be processed, but 46 samples have tested positive so far.
Tennessee
In mid-January, the Tennessee Wildlife Resources Agency (TWRA) announced that Lauderdale County (previously categorized as High-Risk) has been confirmed as CWD-positive. Additionally, Henderson County is now classified as CWD High-Risk resulting from a nearby hunter-harvested positive detection in Madison County.
Texas
In early March, the Texas Parks and Wildlife Department (TPWD) announced CWD has been discovered in a free-ranging 8 ½-year-old mule deer in Lubbock County. In coordination with the Texas Animal Health Commission (TAHC), TPWD is working to develop a containment & surveillance zone in the area.
Virginia
In mid-February, the Virginia Department of Wildlife Resources (DWR) reported CWD was detected for the first time in Rappahannock County in an adult buck harvested during the regular firearms season. Rappahannock County is already included in Disease Management Area 2 (DMA2).
Wisconsin
In early January, the Wisconsin Department of Natural Resources (DNR) reported a deer taken during the gun-deer season in Shawano County tested positive for CWD. This detection marks the first positive in Shawano County.
In mid-January, DNR reported that the first wild deer in Wood County tested positive for CWD. As a result, DNR renewed baiting and feeding bans in Wood, Juneau and Adams counties.
Wyoming
In mid-January, the Wyoming Game and Fish Department (WGFD) confirmed CWD in Deer Hunt Area 138 with a positive test from a mule deer buck that was found dead. This hunt area is adjacent to two other positive hunt areas – Deer Hunt Area 139 to the north and Deer Hunt Area 171 to the northeast.
In early February, WGFD confirmed CWD in Deer Hunt Area 109 with a positive test from a buck white-tailed deer that was found dead and in poor condition. Deer Hunt Area 109 is northwest of Cody and bordered on most sides by known CWD-positive areas.