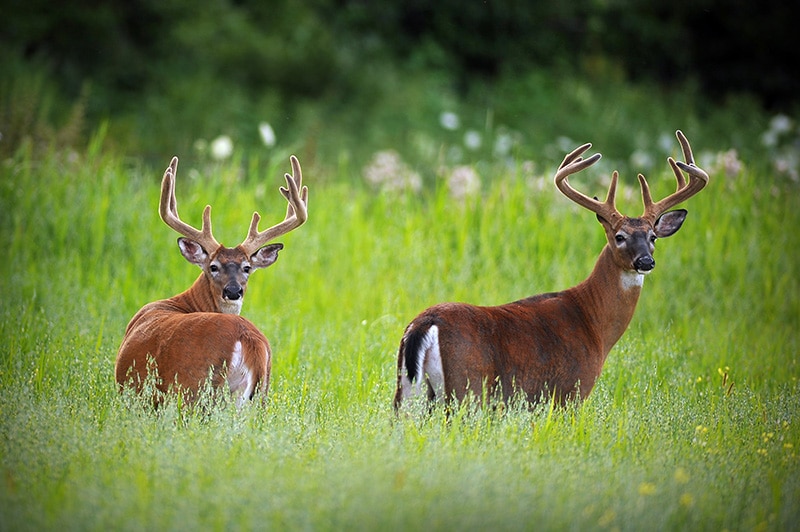 CWD Roundup is the National Deer Association's (NDA) bi-monthly update on all things chronic wasting disease (CWD). We'll provide the latest updates on CWD spread, research and policy from across North America. Updates are provided alphabetically by state and province.
Arizona
In late April, the Arizona Game and Fish Department (AZGFD) announced that CWD remains undetected in Arizona. Department officials did not find any cases of CWD in the 1,589 deer (mule and white-tailed) and elk that were sampled in 2020 — the most in more than a decade. This number is even more impressive considering that many states' sampling efforts were severely hindered to the COVID-19 pandemic.  AZGFD collected 519 samples from animals that were harvested and voluntarily submitted by hunters, and another 1,070 samples through partnerships with game processors and taxidermists.
Colorado
In early March, Colorado Parks and Wildlife (CPW) announced that CWD testing of elk will be mandatory in certain rifle hunt codes across the state this coming fall. Mandatory testing of deer remains in place for 15 Game Management Units (GMUs).
Michigan
In mid-March, the Michigan Department of Agriculture and Rural Development (MDARD) confirmed a case of CWD in a four-year-old white-tailed deer from a Montcalm County deer farm. The case was found through samples that were submitted for routine testing as part of the state's CWD surveillance program for farmed deer. This detection marks the second CWD-positive deer farm in Montcalm County and joins 123 free-ranging CWD detections in the County.
Minnesota
In early April, a 3-year-old white-tailed doe at a Beltrami County farm tested positive for CWD. The herd, made up of 77 individuals, was quarantined in October 2020 as part of the Board of Animal Health (BAH) investigation of a Houston County CWD detection. The Beltrami County herd owner purchased 11 animals from a Winona County herd connected to the Houston investigation, so these animals were considered CWD-exposed, leading to the quarantine. The Beltrami County owner requested federal indemnity for the CWD-exposed animals, which were appraised by the United States Department of Agriculture (USDA) in March.
Missouri
In late April, the Missouri Department of Conservation (MDC) reported it collected more than 15,300 tissue samples from mostly hunter-harvested deer for CWD testing in the 2020-21 season. MDC has confirmed 44 new cases of CWD from the deer tested. Of the 44 new cases, two were found in Putnam County and one in Pulaski County, both of which had no previously known cases of CWD.
Montana
The Montana Fish and Wildlife Commission (FWC) will hold a public hearing on May 13, at 9 a.m., to consider the proposed adoption and amendments of three new rules pertaining to the use of deer or elk urine to mask human odor. The purpose of the new rules is to prevent the spread of CWD. The rules would establish requirements used by the commission for approval of urine-based and natural glandular scents for the purposes of attracting game animals and game birds. The scents must:
originate from a state or province not identified as having documented occurrences of CWD, or
originate from a facility that is approved by the Commission under the Responsible Hunting Scent Association framework and display the required marks on the product packaging.
Click here for more information on participating in the hearing.
New Jersey
In late-April, the New Jersey Department of Environmental Protection (NJDEP) Division of Fish and Wildlife announced that change in state hunting regulations banning the possession, sale, and use of all natural, deer-derived hunting lures becomes effective May 10, 2021. The ban was instituted in an effort to help safeguard the health of New Jersey's deer herd from the threat of CWD.
North Carolina
In late April, the North Carolina Wildlife Resources Commission (WRC) reported that no evidence of CWD has been detected in the state's wild white-tailed deer herd. As part of their annual CWD surveillance effort during the 2020-21 sampling season, wildlife biologists collected 1,042 deer tissue samples across the state from hunters, meat processors, taxidermists, road-kills and sick deer.
Ohio
In early March, the Ohio Department of Natural Resources (ODNR) identified a second positive test for CWD in a wild white-tailed deer in Wyandot County. The mature doe was harvested in January during a controlled hunt on the Killdeer Plains Wildlife Area refuge, within 2 miles of the first positive wild detection.
Pennsylvania
In mid-April, the Pennsylvania Game Commission (PGC) released results from the 2020-21 CWD sampling season. The Commission tested more than 12,000 whitetails for CWD in the 2020-21 license year, yielding 218 positives. Disease Management Area 2 (DMA 2), and even more specifically in that portion of DMA 2 known as the Established Area, saw disease prevalence increase from 8% to 14%.
South Dakota
In mid-March, South Dakota Game, Fish and Parks (GFP) proposed new carcass disposal rules. Now, all hunters transporting a deer or elk must dispose of all carcass remains in a garbage container or at a permitted landfill.  The new rules would apply statewide regardless of CWD status in the respective county of origin.
Tennessee
In late-April, the Tennessee Department of Agriculture's (TDA) Kord Animal Health Diagnostic Laboratory opened the state's first CWD testing facility. The CWD testing unit is operational and fully accredited by the International Organization for Standardization (ISO). During the most recent deer season, the lab received nearly 600 samples from the Tennessee Wildlife Resources Agency (TWRA) each week. With the opening of the new CWD testing unit, that amount is expected to triple in 2021.
Texas
In late-March, the Texas Parks and Wildlife Department (TPWD) announced that CWD was discovered in deer breeding facilities in both Hunt and Uvalde counties. This marks the first positive detection of the disease in Hunt County. The tissue samples were submitted by the deer breeding facilities as part of required CWD surveillance programs. TPWD Officials have taken immediate action to secure all deer at both facilities and plan to conduct additional investigations for CWD.  In addition, other breeding facilities that received deer from these facilities or shipped deer to these facilities during the last five years are under movement restrictions and cannot move or release deer at this time.
Virginia
In early April, the Virginia Department of Wildlife Resources (DWR) announced the 2020-21 CWD surveillance results for Disease Management Areas (DMAs) 1 and 2. Within the two DMAs, a total of 20 hunter-harvested white-tailed deer were confirmed to be infected with CWD out of a sample size of over 3,000 individuals. Of the 20 CWD-positive deer, 13 originated in Frederick County.
Wisconsin
In mid-March, the Wisconsin Department of Agriculture, Trade and Consumer Protection (DATCP) confirmed that a white-tail deer herd at a Burnett County breeding farm that tested positive for CWD in October 2020 was depopulated on March 3, 2021. None of the 14 deer remaining on the farm tested positive for the disease.​
Wyoming
In early April, the Wyoming Game and Fish Department (WGFD) released CWD prevalence rates for the North Bighorns elk herd consisting of elk hunt areas 35-40.  Test results identified seven positive elk in two of the hunt areas, Areas 35 and 37, resulting in an estimated disease prevalence rate of 3.4% in the herd. Both elk hunt areas overlap deer hunt areas with documented CWD in mule deer and white-tailed deer. No CWD management actions have been implemented for this herd yet.