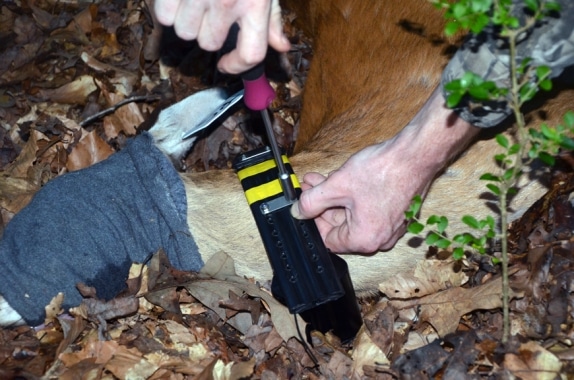 I just got back from a deer hunt… in June.
Wait – don't dial the Turn-in-Poachers Hotline. I was the guest of University of Georgia researchers who were darting deer and fitting them with GPS-tracking collars so they can study their movements. Getting a first-hand look at deer research in the field was a blast, and it has given me an opportunity to share a unique – and legal – summer deer-hunting adventure.
The hunt took place near Madison, Ga., which is about 40 minutes south of QDMA National Headquarters. I made the short drive filled with anticipation, hoping I was about to have the chance to see, touch and photograph a living, wild deer. I felt like I was in a movie where special agents with high-level clearance go on a secret mission.
These researchers had plenty of clearance. They had a Scientific Collection Permit from Georgia DNR, which is required by state law anytime researchers touch, restrain or capture an animal. Additionally, their plan of action had been approved in advance by the UGA Institutional Animal Care and Use Committee, which sets protocols for animal use in research and approves all methods. The drugs used to sedate the deer also require approval. Some of the drugs used are restricted chemicals, and researchers must possess a federal Drug Enforcement Agency permit as well as a permit from the Georgia Board of Pharmacy.
When I arrived in Madison I met up with graduate student and lead researcher Jim Stickles around 6:30 p.m. Two other researchers working on the project, Swanny Evans and Chad Jenkins, had already set up climbing stands in different locations to dart deer. In addition to the sedation chemical, the dart also includes a tracking transmitter to help researchers find the deer quickly. Wouldn't that make tracking deer during the actual season much easier!
With the two "hunters" in the woods, Jim and I waited for word that a deer had been darted. In talking with Jim, I found out it could end up being a really long night. Sometimes they were fortunate enough to dart a deer with adequate daytime left to complete the entire process of tracking, documenting data and collaring. However, on other occasions, the darting part occurs near the very end of daylight; thus, all the tracking and research is left to be done late into the night.
On this deer-darting and collaring trip, we didn't have to wait long. Jim got a text around 7:30 p.m. from Swanny. A doe had been darted, and we were on the move. I couldn't believe that after just talking about the possible late night, we were headed to meet up with Swanny with plenty of daylight to spare, which was exciting to me for a few reasons. For starters, we had a deer darted, and my adrenaline got pumping as if I had just shot the deer myself and was going out to track my kill. Second, I was going to actually get to do what I was excited about from the get-go – see and touch a living, wild deer. Ultimately, the purpose of following the researchers came to mind too. I was going to get some decent photos with the daylight that remained.
After tracking the doe for about 200 yards through woods that just screamed deer habitat – with lots of cover and low-level forage – we found her sedated on a small hill on a trail coming up from a creek. I kept back a slight distance to allow the researchers space to do their work, but my trigger finger on the camera was snapping away. I couldn't wait to share these photos with family and friends.
About an hour into the data collection and collaring of the doe, Jim got another text, this time from Chad. He had darted a buck! If my ears could perk up like an alert deer, that's what they were doing. I didn't care if we had to track the buck 400 yards, I knew this was one of those times in your life when you just know you need to live in the moment and enjoy every last bit of it. To get a doe and a buck – and by 8:30 p.m. – made this a really good night.
Jim and I left to meet Chad and track the buck while Swanny stayed to finish up with the doe. Surprisingly, the buck only went about 80 to 100 yards. I was thinking the heavier buck would travel further than the doe, but Jim explained that how far a deer goes depends on the deer, shot placement and how much chemical from the dart gets into the deer's system.
By the time we arrived at the buck, darkness had set in. The really cool part about getting to see the buck was being able to feel the antlers. I expected them be a little warm to the touch, but they were actually hot!
Another aspect of the buck I found fascinating – which the buck most likely doesn't – was the massive tick infestation he had, especially on his ears and antlers.
When all the data collection and collaring was done and I was driving back home, I couldn't help but think how lucky I was that night. Lucky to have the opportunity to follow deer researchers and encounter live, wild deer. Lucky to go on a night where two deer were darted and collared instead of one or none. Lucky to have an experience that very few people will ever enjoy. And lucky to have spent nearly five hours in the woods in June and not pick up a single tick!
Be sure to check out the photo gallery and captions below for a more in-depth look at the complete darting and collaring process.