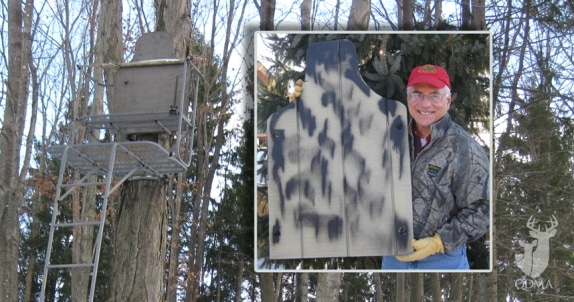 Your ladder stands and lock-ons are probably already deployed for the coming deer hunting season, like mine, and hopefully deer are becoming accustomed to seeing them in the landscape. But have you ever wondered if they might notice the camouflaged silhouette that suddenly appears in the stand on opening morning? QDMA member Jim Sollecito of New York recently shared a technique he has used successfully to prevent this: He places what he calls a "Shadow Man" in his stands.
"By having the shape up in a tree well before the season starts, the deer get used to it," Jim told me. "Then, when I hunt, the Shadow Man also acts as a windbreak, and it's a nice, flat surface to lean against that doesn't make noise when I move. Plus, depending on where the deer is located, it allows my movements to be screened. I've used these for 10 years, and I cannot tell you the number of times a deer was approaching behind me and my Shadow Man screen allowed me to pivot for the shot and kill the deer."
Jim can get four Shadow Men out of a 4×8 sheet of T-111 or ½-inch exterior plywood. After cutting the silhouettes, he brushes on two coats of exterior gray paint, then he adds green, black or brown camo accents. It's probably a good idea to measure the height of your own torso when sitting so that the dimensions of the "shoulder" cutouts match your own profile. This allows you to turn your head while seated to look over your Shadow Man's shoulder.
Next, Jim drills four holes in the board (seen in the photo) and runs a gray or brown strap through the holes for mounting on the tree. These straps need to be checked and tightened annually.
"You can leave the Shadow Man out all year long, unless you live where there are porcupines," Jim said. "In that case, take them down at the end of the season or they will become porky pie."
Another tip: In the past, Jim has even put blaze orange vests on his Shadow Men in a few cases where he wanted to discourage a nosy neighbor from hunting the wrong woods.
"I like to pile brush behind my stand in the blind spot so deer are always presenting me with a double-lung shot," Jim said. Manipulating habitat to set up shots like this is one of Jim's specialities, as you'll see in this article he wrote about three of his favorite setups.