In the summer of 2014, I picked up a brochure produced by the Wisconsin Department of Natural Resources titled, "Wisconsin's Deer Management Assistance Program, a partnership for healthy deer and healthy habitat." Without opening the brochure, my initial thought was, "How do I sign up?" In hindsight that decision might seem hasty, but I'd like to share all the benefits I have already gained from my state's DMAP and encourage you, if you hunt in a state that offers DMAP, to sign up as well.
Once I opened the brochure, I learned that Wisconsin's DMAP, like those in many other states, is a cooperative effort between the DNR and hunters interested in managing wildlife. Wildlife and forestry professionals assist with habitat and deer management practices that consider your goals for a hunting property. In the words of the brochure: "This one-on-one relationship, stressing communication and cooperation, makes DMAP a flexible and effective deer management program for private and public lands alike."
QDMA's Kip Adams recently reported in Quality Whitetails that at least 19 states currently offer DMAPs, including all 11 Southeastern states. In the Northeast, DMAPs are found in Virginia, New Jersey, Pennsylvania, New York, and New Hampshire. In the Midwest, Michigan, Iowa and Wisconsin offer DMAP, and all three of these programs were implemented in 2014 or more recently. So DMAP is spreading, and more states will hopefully offer it soon. Though program specifics vary state to state, in general DMAP provides site visits and guidance from agency biologists or foresters, additional antlerless tags or permits to meet site-specific density goals, and some DMAP programs require participants to collect deer harvest data.
Wisconsin's DMAP offers a greater range of services than most states. Depending on the size of the enrolled property, these include:
Written management plans that include all wildlife with an emphasis on deer (though there are no mandatory practices in the plan, only suggestions).

Participation in research projects including data collection on deer harvested on the enrolled properties and deer exclosure materials provided free to cooperators.

Regional workshops on deer biology and deer/wildlife habitat management.

Free DMAP property signs
The Wisconsin deer biologists who oversee DMAP are very accessible and helpful, and as a QDMA Regional Director I've even found they love opportunities to speak at QDMA Branch events. After I first signed up for DMAP myself, the first site visit by our local DNR biologist and forester was eye opening. We learned that our deer population was below carrying capacity of the habitat based on a browse study conducted during the visit, and our food plots were judged to be high-quality, so we were told we could actually support more deer on the property. But we learned that we were lacking quality bedding cover. The forest was slowly becoming a monoculture of mostly mature maple trees and pines and was in need of selective harvest. It was suggested that we also harvest our ash trees before the invasive emerald ash borer arrives and kills them, and we were shown several invasive plant species that needed to be controlled. Our method of accessing stands and managing hunter pressure earned a thumbs down, and suggestions were made for improvements.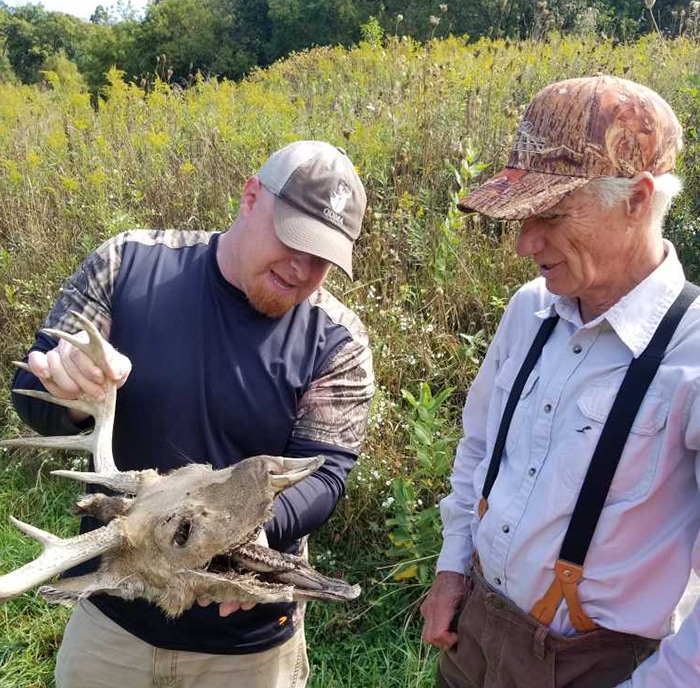 This guidance has led us to make much progress in the four years since then. We logged off five areas of ash trees, and those new openings have been converted to three bedding areas, one food plot and one open area that we maintain as a "strutting zone" for wild turkeys. We also thinned our pine plantation, and the resulting increase of sunlight on the ground created much more browse and new bedding cover. We are scheduled for another timber harvest this winter, and in 2020 we have plans to select cut, patch cut and clear cut areas that fit into our new deer hunting plan. This plan, by the way, includes more hunter access routes to our stands, and we now hunt smarter with regard to the wind direction.
Additionally, we created five new water holes for deer and other wildlife, and we have plans to create a permanent pond this summer. In 2018 we installed a deer exclosure to help monitor deer densities by measuring browse pressure on native plants. We participate in the DMAP Deer Research Project, collecting  and providing data from our deer observations and deer harvests for DNR analysis.
It was also our DMAP biologist who suggested I read the book Quality Whitetails by Karl V. Miller and R. Larry Marchinton. It changed my thinking so much that in 2015 I formed a QDM Cooperative that now includes more than 50 of my neighbors and covers over 8,000 acres. Since forming the Cooperative, our deer population has increased, and that includes more bucks of older age classes.
My friend and QDMA member Kim Zuhlke, who is president of QDMA's Coulee Country Branch, has also been a Wisconsin DMAP member since 2014.
"I have been a landowner for more than 40 years and always have had goals. Unfortunately, I learned the hard way through a lot of my mistakes that not all ideas are great and maybe not the best use of my time and money," Kim told me. "Getting good advice and input from those who have been trained and have real world experience can be as good as it gets. The DMAP workshops help a ton with good ideas and allow face time with biologists, experts and fellow hunters. It's likely some of the best time you will spend regardless of where you are on the learning curve."
How do you sign up for DMAP? Well, if you live in Wisconsin, you can enroll in DMAP at any time, however, properties of 160 acres or more should sign up by March 1, 2019 to be eligible for a site visit this year. Check out Wisconsin DNR's DMAP page or contact Bob Nack, DMAP Coordinator, at (608) 264-6137.
In other states, contact your nearest state wildlife agency office as soon as possible to find out if your state offers DMAP and how to sign up. If DMAP isn't available where you hunt, encourage your state agency to offer a program. QDMA is a big supporter of DMAP and encourages states and that do not have them to consider their use. The benefits for deer hunters and state wildlife agencies alike are what make DMAP popular and a big success story for the future of deer hunting!