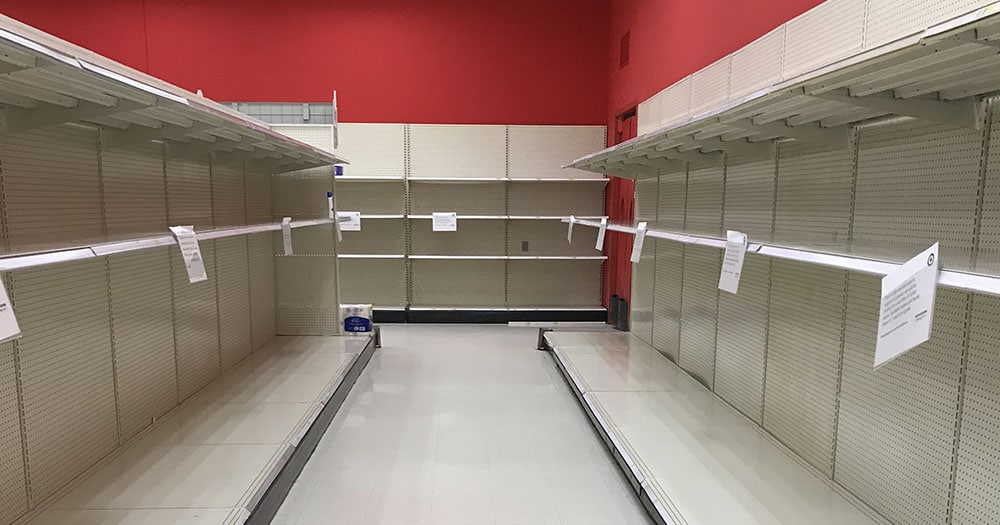 What's going on in the above photo? Do you see it? I snapped this over the weekend here where I live in upstate New York while trying to get some supplies for the family.
It's pretty blatant, I think.
Hidden there behind the obvious, in that dusty little corner, is something every deer hunter should recognize.
No, it is not a society full of fear. Although emotional fear does influence behavior, it's triggered by the perception of danger, real or imagined. And what we perceive is based (at least partly) on knowledge — our past experiences. It's our brain trying to react, comprehend and analyze a particular situation or stimulus.
So, what I see in this photo is not a bunch of empty shelves, but's ones that are full of opportunity. A chance to show more of my neighbors and friends how to become more self-reliant, to not be so full of fear, by offering to teach them how to hunt.
I'm positive we will get through this as a stronger community and nation. And when we do, let's turn the tide on hunter recruitment efforts.
We've clearly become so disconnected with the "basics" of survival that we can't gauge simple human necessities. We need food, water, shelter and, ideally, companionship. We've lost our inner hunter-gatherer. It may sound trite, but I know my variety of experiences as a hunter have given me confidence in what we're going through as a nation right now.
If you hunt, I assume you feel the same way?
The opportunity is obvious to me because, the fact is, we need more hunters. Our American system of conservation depends on it. And, there's no better situation for the 95% of society that doesn't hunt to realize they're unprepared and may need a lesson in self-reliance; because it's clear the store shelves may not always be stocked with pretty packages all wrapped and ready for us to take home.
I challenge you to ask one person you know who doesn't hunt if they'd like to give it a try this year. I'm guessing you'll have a taker. If you don't know where to start, look to see if a QDMA Branch is near you. If there is, get involved with them and, if not, consider starting a new Branch in your area. Many of these local QDMA groups host official learn-to-hunt efforts, like our Share Your HuntTM or the ever-popular Field to Fork programs, where a mentor and mentee are paired together.
I'm positive we will get through this as a stronger community and nation. History says we will. And when we do, let's make the best of the pandemic and turn the tide on hunter recruitment efforts.
I'd prefer to keep those shelves filled with hope instead of despair.