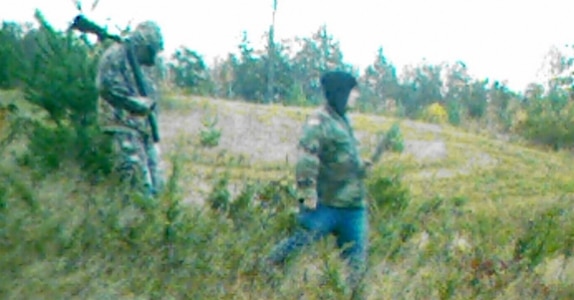 The distinctive sound of gravel under tires grabbed my attention. Light was fading fast as I found myself standing in knee-high grass along a virtually uninhabited country road in rural Washington County, New York. As I focused my attention to the west to locate the source of the sound, the glow of five, evenly spaced, orange lights rose slowly from beyond the next hill. Then I heard a low voice that grew louder as the vehicle approached. Someone in the vehicle was repeating a single word every few seconds. They were calling a person's name. I couldn't believe it. The landowner was right!
A maroon crew-cab pickup with clearance lights crawled by me. The passenger side window was open and a mysterious figure raised his hand to wave, as folks typically do in farm country. Due to the circumstances, it was a pretty awkward greeting. As the truck drove by, it picked up speed, and I walked out in the middle of the road in an attempt to jot down the license plate number.
This actually happened to me in fall 2014. I hunt on a QDM Cooperative in eastern New York that is part of an amazing network of nearly a dozen other Cooperatives in a four-county area, encompassing roughly 40,000 acres. The driving force behind all this cooperation is the Upper Hudson River Valley Branch of QDMA.
Editor's Note: You're reading an excerpt from a longer article in a 2015 issue of QDMA's Quality Whitetails magazine. Join QDMA today to start receiving every copy of the magazine.
Since I first moved into the area in 2009, several people have recounted story after story of "Wild West" antics, where outlaws go to great lengths to trespass and kill deer illegally. I was sure it happened, but, really, how common could it be? Proving my naïve nature, it would turn out that poaching and trespassing runs deep here.
Earlier that November afternoon I had arrived and settled into my hunting spot, waiting for a parade of deer to start filtering out from the tree line. I was shocked by a gunshot to my north, just a couple hundred yards away. No one was allowed to go into that section of woods. It was off-limits to provide a safety buffer behind the landowners' homestead. With three young children at home, they take every precaution to ensure their family's well-being. For this reason, boundary lines around that particular woodlot are posted with signs at a frequency well above what the law requires.
Five minutes later, another shot. Then another.
Through a series of texts with the landowner and other hunters on the property, we quickly determined that someone was in there hunting, or at least shooting, who shouldn't be. Since I hadn't seen a parked vehicle on my way in, the landowner also surmised the person was dropped off at the road – a tactic used here before – and that someone would be back to pick them up at dark.
Boy, was he right.
He was also right a year earlier when two men paddled across the Hudson River in a canoe, killed a doe in a large agricultural field, and were caught red-handed by a fellow Cooperative member while dragging it back to the water's edge. Or, two years before when a promising young buck we knew well went missing in late summer. Bar-room chatter ultimately led officers to the doorstep of a notorious poacher in the area. He admitted illegally killing the buck on a nuisance tag and trying to pass it off for a legal, archery-season kill in the next zone north (it has an earlier start date). Luckily, law enforcement was able to apprehend and charge the criminals in both cases.
Those are cases that were solved. I can list half a dozen more since 2009 where missing or decapitated bucks, mysterious 3 a.m. gun shots, rumors, social media posts and crime-scene evidence left behind make up the ingredients for one hard-to-swallow truth for our Cooperative and the local QDMA Branch: We do have a major poaching and trespassing problem. The photo at the top of this article is just one of numerous unidentified and armed trespassers we have caught on trail-cameras.
After texting back and forth that day, the landowner phoned the authorities and urged me to go to the road and wait for the impending pick-up. My afternoon hunt was over anyway, as the gunshots originated in the woodlot from which I expected deer to emerge. I picked up my rifle and backpack and walked to the road. About 10 minutes after the truck drove by, a silhouette of a man carrying a gun materialized from the wall of posted trees and onto the road about 60 yards to my east. I approached and addressed him. I told him to stop and that I wanted to speak to him. He said he was lost, but he was walking backward, away from me, as I walked forward. We both held guns. I kept telling him to stop and that I wanted to talk to him about being on "my" land. He then shouted that I was harassing him! I said not to worry that we could call the cops and have them work it out between us. With that, he turned and took off south, the opposite side of the road from which he had come. He crossed a small cut corn patch and disappeared into the woods.  I chose not to pursue and got into my truck, which was parked nearby.
The situation worsened a few minutes later.
Communication is a key element of QDM Cooperatives, and in most groups the partnership between properties offers tangibles like agreeing on harvest goals or data collection. It also provides a "Neighborhood Watch" atmosphere. As I climbed into my truck, the Neighborhood Watch was converging on my location, including the landowner and several other Cooperative members. As luck would have it, the maroon crew-cab was also returning to scene for a second attempt to pick up the trespasser. They turned back onto the road, and right behind them drove one of my hunting partners. The crew-cab was almost boxed in by our vehicles. Seconds later, with the truck completely encircled by our headlights and angry glares, we were able to record the full license plate number. We tried our best to hold them, but after several tense minutes they charged forward through a gap between my truck and the tree line, leaving a shower of dirt, rocks and grass behind, and narrowly missing my truck.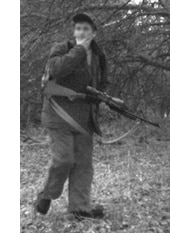 Luckily for us, the trespasser's image was burned into two SD cards that afternoon as he traveled through posted property (one of the photos is seen on the right), and he was positively identified and issued tickets for trespassing, hunting without a license and possessing a firearm unlawfully, a big no-no for a convicted felon. Unluckily, however, when he finally landed in court he was only charged for trespassing – a basic $250 fine – and the other charges were dropped.
Similar charges were issued in the other cases; the canoeing poachers were each fined $250 while the summertime poacher was fined $800 due to the fact he killed that young buck out-of-season, at night and by means of artificial light.
With the sheer volume of illegal acts occurring locally, we have been forced to ask: Is the system and fines currently in place enough of a deterrent? Nationally, minimum fines are all over the board, but the nationwide minimum average fine for poaching a whitetail is just over $350 per first offense, with several states mandated to charge over 1,000 dollars.
Everyone has a breaking point, and with the latest examples of illegal activity in our area reopening old wounds, the volunteers in the Upper Hudson River Valley Branch and many of the local QDM Cooperative leaders had enough. We got together and decided to do something about it. As a result, there are now two legislative bills that could potentially increase poaching fines in New York State (New York residents, please see below for more information).
Who knows what the result will be, but the point is that we are trying to do something. And in the end, that's what being a QDMA member is all about. Many mistakenly think QDM is about promoting big-antlered bucks and nothing more; that couldn't be further from the truth. QDMA volunteers are doers. They don't sit idly by and complain about the way it used to be or the way they wish it was. They see a problem and fix it. The focus of each QDMA Branch or QDM Cooperative varies, from habitat improvement to youth involvement to education and outreach to regulation changes in their community. For now, it seems that the focus in my area will be to do everything possible to help thwart poaching and trespassing.
If you'd like to cause positive changes where you hunt, join QDMA and then consider becoming a volunteer QDMA leader in your local hunting community and help spread QDMA's message of sound deer management. You'll be glad you did.