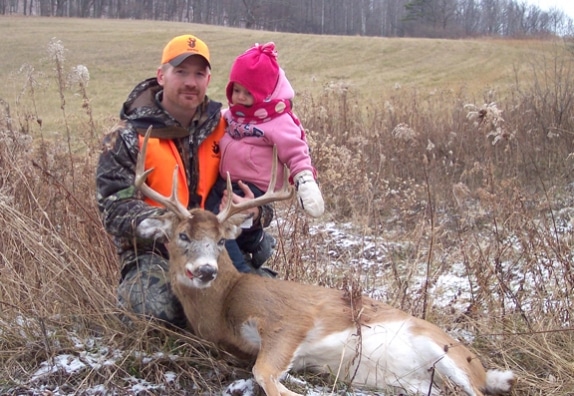 All hunters treasure a large-racked, mature buck, and record numbers of bucks in this age and antler class are being shot each year. That is great for hunters and the future of hunting. Every hunter who shoots a big buck should be extremely proud of his or her effort, especially when it's the biggest buck of their life. However, what if you shoot a buck that's not your personal best? Should you quickly hide the antlers and refrain from sharing photos of it with friends and family?
Far too many hunters feel that way today due in large part to the record number of huge bucks being shot annually. I'll argue those record numbers are a good thing, but I'll argue even louder that too many hunters today don't appropriately celebrate the buck they shoot for fear of being ridiculed by other hunters. What a shame! We're all hunters and we're on the same team. You simply can't kill the biggest buck of your life every year. However you absolutely should celebrate every buck you shoot. Does this mean you should shoot yearling bucks just to fill your tag? No way, but there are situations where there's absolutely nothing wrong with shooting young bucks.
I've been blessed to shoot some very nice bucks. However my favorites aren't necessarily my largest-antlered ones. For example, in 2008 I shot an 8½-year-old buck on my 35 acres in Pennsylvania that ranks right near the top of my favorites list even though he scored just under 120 inches (he's seen in the photo above). His age, determined by a cementum annuli lab exam, makes him the oldest buck I've ever shot, and I'm super proud of him. If I shared pics of him on social media, some would scoff and some would likely call or text and ask why I shot him. In my opinion, that's ridiculous. The buck was legal, he met our harvest guidelines, and he was fully mature. I couldn't care less about his antler score. He will always be one of my favorites, and no one can take that appreciation away from me. I'll share his photo and story with any fellow hunter.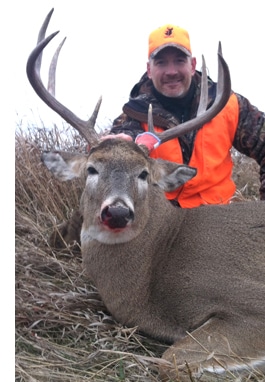 Another favorite buck came from the 2013 deer season in North Dakota. I have a very good friend in Minnesota and another in North Dakota. It just so happens the two are cousins, I met them at a QDMA event, and we became friends and then hunting buddies. They refer to each other as "Minnesota" and "North Dakota." Hence they call me "Pennsylvania." In 2013, Minnesota was planning to hunt deer with North Dakota at his farm. Unfortunately Minnesota had a medical issue that wouldn't allow him to hunt, so in early fall I learned I would be able to use the tag reserved for him. I was sorry my friend was not doing well but ecstatic at the opportunity to see and hunt with North Dakota. Fortunately, Minnesota's health improved enough to travel and spend time at camp with North Dakota and me. I knew of his plans, but he surprised North Dakota by showing up at his door after I had arrived. It was a joyous reunion, and any deer hunter who only sees a hunting partner a few times a year knows exactly how excited we were. During that trip, I was in a stand that Minnesota could watch from his truck about 500 yards away. A huge bodied 3½-year-old buck slipped up, and, with Minnesota glassing the scene, I punched my tag. North Dakota didn't shoot a buck that day, but the three of us told stories like school kids late into the night. This buck (seen in the photo on the right) was not the oldest, heaviest or highest-scoring deer I've shot, but he absolutely makes my all-time favorites list.
I killed another favorite buck on the Monday after Thanksgiving 2015. That's my favorite Monday of each year, as it marks the opening day of Pennsylvania's rifle season. November 30 was a special day for all Pennsylvania hunters given it was opening day in 2015. It was an even more special day for me and my family as one year before that, on November 30, my Dad passed away. He hadn't hunted for the past several years, but no one looked forward to deer season more than Dad. He was at camp nearly the entire two weeks of the season, he did all of the cooking, he loved it when friends stopped by to visit, and he thoroughly enjoyed everything deer-camp related. Our 2014 deer season was devastating because of our loss. That's not how he would have wanted it, and I was determined the 2015 season would be a great one for us. So, on opening day, November 30, with my daughter at my side, we scanned the field and brush cover for deer. We sat in an elevated blind that we erected as a family, watching a food plot we planted as a family, talking about us and school, and Grandpa (Dad). Ten other guys were also hunting out of camp that day, and I so badly wanted someone to shoot a buck so we could hang it on the deer pole, celebrate our collective success, and silently salute Dad for providing us the camp and a place to hunt.
Our buck-harvest rules allow kids to shoot any buck they want. For adults, bucks must have a 16-inch inside spread or be at least 3½ years old. This guideline has allowed us to shoot bucks each year and still have all age classes well represented for the next season.
Katie and I had an unbelievable hunt as we watched does and fawns and young bucks feed in and out of the field. At 4:15 I saw a deer enter the field about 125 yards away. Katie asked if I was going to shoot, and when I said yes she smiled widely. The buck was legal, it met our harvest guidelines, and it was an incredibly special opportunity for us.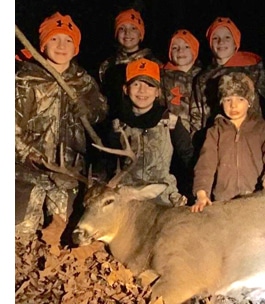 When we touched him for the first time, we held hands, said a prayer for our good fortune, and told Dad how much we missed him. We then hurried to camp to get the recovery party we knew would be waiting. The recovery team consisted of my kids, my nephews, my best friend's daughter, and my brother. I'm a very lucky man to be blessed with family, friends and the opportunity to hunt deer.
At 3½ years old, this deer isn't even close to being the oldest, heaviest, or highest-scoring buck I've shot, but I'll promise you it's one of my favorites, and I'm proud to share its picture with every deer hunter in the world.
This year, let's take a moment to remember why we hunt. Your reason may differ from your neighbor's, so don't be critical of what he or she shoots legally or chooses to pass, and never apologize for what you shoot. Your deer deserves better than that.
I hope you had a great 2015 deer season, and remember, at QDMA we measure success in memories, not inches of antler.