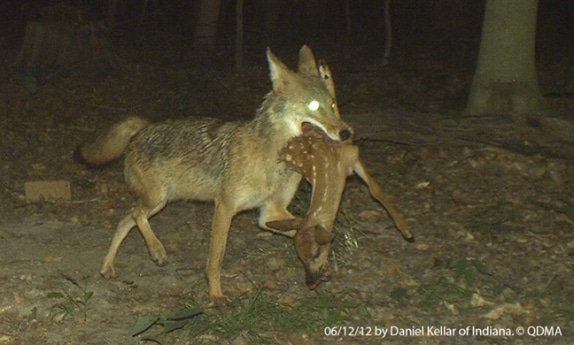 My summer of researching fawn survival is coming to a close, and I am already thinking back on some of the more lasting memories from my time in the field – like the morning I was walking through some very thick blackberry bushes and tall ragweed, looking for a fawn at a birth site. It's lucky I had my eyes trained on the ground, because that's how I spotted the timber rattler resting in the shade just a couple steps ahead on my path. I called a friend who is doing a research project on snakes. She was nice enough to capture it for me, and she didn't release it back at the site until we were finished in the area!
There was also the afternoon my research collaborator Mike Cherry and our lead technician John-Michael McCormick were driving near a food plot when they spotted a young fawn standing on the edge. Mike stopped the truck and caught the fawn. While he had no issues handling it quickly and placing a tracking collar on it, the doe witnessed this entire event and was not too happy. She ended up bluff charging and blowing at both of the guys. Although this seems like it may have been a stressful event for both the fawn and doe involved, it is not uncommon during capture and has happened to me a few times in my deer research experience. Based on these experiences, I can confidently say that such encounters have little effect on the fawn's survival. This particular fawn is still alive today, which I believe in part has something to do with it having a tough mother.
One of our fawns was captured near one of the employee residential areas at our research site. While it was being monitored shortly after capture, there was more than one occasion when its behavior caused us to scratch our heads in wonder. First, when one of our technicians was identifying its bed site at the time (which was right in the middle of the residential location), he noticed a large mower heading to that area. Because we did not want to do anything to influence the fawn's behavior or survival, we let the mower go about its business. Somewhat surprisingly the fawn was still alive the next day and is alive to this day.
These events and others like them have taught me that nothing always goes according to plan, and many times that means really interesting things can happen. However, I'm now entering the less interesting portion of my research. Moving into the fall, I will be tracking the few fawns that are still alive until the end of the year (which is a lot less exciting than it sounds). I will then take the tracking data from all of the fawns and use it to look at how, and at what rate, fawns expand their movements and home range as they age.
Along with tracking my surviving fawns this fall, I will be spending hours upon hours in my office beginning to analyze all of my current data. Throughout that process, I will be keeping in mind what I observed at fawn bedding areas, which will help me identify habitat variables that may be important to a fawn. For example, many bed sites were observed to be literally right at the base of mature pine or oak trees or in thick vegetation on the edge of a forest stand, or both (click on the photo in the Gallery below to see an example). If they were observed bedding away from a forest edge and more into the forest, they were commonly found under tall vegetation that was in or on the edge of thicker understory cover that management practices such as prescribed fire may not have been able to completely go through.
Although I cannot come to any final conclusions about these observations until I analyze my data, I believe that fawns bedding at sites like this definitely has something to do with their attempt at decreasing the chance of being detected by both "visual" predators that hunt by sight (such as bobcats) and "olfactory" predators that hunt by smell (such as coyotes). Tall and thick vegetation will conceal fawns visually and prevent their scent from being carried great distances.
I have personally observed fawns bedding in almost the exact place as previous bed sites, which tells me they aren't just randomly plopping down anywhere in their doe's home range. To gain a definitive understanding of this, I will be analyzing all of the vegetation characteristics that were measured at fawn bed sites, and statistically comparing them with randomly generated sites. I will also be comparing the bed sites of the fawns that died with the ones that lived, as well as male and female bed sites. From these tests, I am confident that I will at least be able to provide deer managers with a better understanding of characteristics of hiding cover that fawns prefer and that can be managed for.
I hope my summer series of articles at QDMA.com has given you a better picture of what is involved in a deer research project. When my project is finished and the data analyzed, I'll share my conclusions and discussion as well. Until then, thanks for reading!
Read Melinda's summer blog series from the beginning.