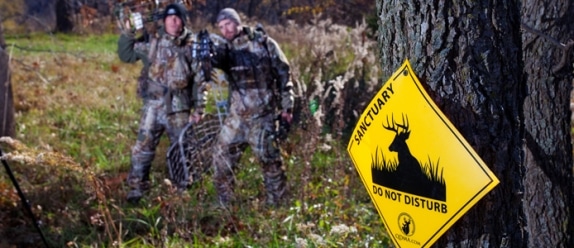 One late July afternoon I was driving down the back roads of Monroe County, West Virginia, near my home in southwest Virginia, searching for new places to deer hunt. At the first cattle farm where I stopped, the landowner refused my request, but after the rejection I asked the gentleman if he knew of any neighbors who might let me go afield. The man pointed to the cattle farm across the road, and a few minutes later I was talking to that individual. After I gave my name, where I lived, and where I worked, this is how our conversation unfolded:
"I've driven through here in the past and seen deer out in your pasture feeding in the evening," I said. "If you have a problem with too many deer on your place, I would be glad to help with that."
"Well, my nephew likes to hunt here," the man hesitantly replied. "He's been chasing this big buck for a couple of years."
"I'll be glad to agree not to shoot bucks of any size," I quickly replied. "And I won't come on Saturdays or any day your nephew is hunting."
Those two promises were all it took for the landowner to grant me permission. During one of my early fall scouting expeditions, I met the nephew and immediately asked him when he would like for me to stay away from the farm. It turned out that the nephew only hunted during the two-week firearm season, so I pledged to not hunt the place then. Reassured that I was not a threat to his pursuit of big bucks, the young man willingly told me about a fence-line bordering the field where does liked to cruise in the evenings. On my initial bowhunt that fall, I killed a nice doe there. The next fall at the same spot, I smoked a fine, mature doe during West Virginia's muzzleloader season.
In the interim, I had several more conversations with the landowner, who had quickly overcome his initial hesitancy about letting me on his place to the point he wanted to discuss deer and habitat management with me. It was then I began to share the Quality Deer Management (QDM) philosophy with him, and I could tell that his estimation of me greatly rose. I used our budding friendship to help me gain permission to hunt the neighboring cattle farm, and when a 95-acre woodlot adjoining that latter place came up for sale, I bought it – further integrating me into the community. Both of "my" landowners told me how thrilled they were that somebody they knew had bought the place. Now when I stop by any of the local stores, people I have not even previously met know me as the person who bought "Old So-and-So's Place," and who hunts on the two aforementioned cattle farms. Only time restraints have kept me from adding more local farms to my roster of places to go hunting.
Granted, not all first contacts with landowners turn out as well as the anecdote mentioned above, but I believe hunters who practice QDM and are QDMA members have several built-in advantages when it comes to gaining permission to hunt.
• Our Four Cornerstones of herd management, habitat management, hunter management, and herd monitoring. Sharing this knowledge with landowners is a great way to spread the QDM message and show that we are knowledgeable, responsible hunters.
• Herd management is the most important issue with many landowners. When trying to gain permission to hunt, I quickly bring up this topic and explain how I can help. Many farm families who have given me hunting permission because I first promised to shoot only does have eventually allowed me to kill bucks. In fact, the two biggest bucks I have ever killed came from farms where I gained permission because of my promise to target does, then as the landowners and I came to know each other, they encouraged me to feel free to try to take a nice buck as well.
• QDM members' knowledge of habitat management. After I gained permission with the Monroe cattle farmer, I often began our subsequent conversations with what I was trying to accomplish habitat-wise on my land and what innovative things other landowners I knew were doing. I soon became the property owner's source for information on habitat issues, which often became the first thing he wanted to talk about when I came by.
• Most farmers truly love their land, want to make it better for their livestock and wildlife, and who better than QDMA members to help a landowner achieve these goals? Bullet points two and three above help ensure that I will continue to be invited back not only to the Monroe cattle farm but also to other properties as well.
Here are some additional things I believe in when it comes to gaining permission to hunt and keeping it:
• I never pay to hunt or become involved with signing a lease. I know that leasing is the norm in many places, but I have even gained permission to hunt two farms that are leased, and the hunters who have gained the leases have been fine with me going afield on their proverbial dime. These hunters know that I am there to shoot only does, not bucks. As a nice sidebar, I am the only person afield on those two leases during the spring gobbler season.
• Obviously it's fine to use the Internet or to stop in at local government offices to find information about prospective places to hunt. But never make first contact with a landowner by phone or e-mail; it's too easy for someone to turn you down. Nothing beats the old-fashioned approach of driving down country lanes and stopping to talk to folks.
• After I have killed a deer, I always give the landowner a gift of my wife's homemade bread. A small gift like this is a much-appreciated gesture.
• Always determine what the landowner's pet peeves are about hunters, and avoid them. For some property owners, it is such actions as driving through a field, not closing a gate correctly, or coming to hunt on a Saturday.
• Look for small ways to show the landowner you not only respect the property but will leave it better than you found it. For example, remove litter left by others.
In Summary
I know many sportsmen struggle finding a place to hunt. But in all sincerity, one of my biggest problems is making the rounds every fall to every farm I have permission to hunt on. In recent years, I have had to turn down requests from several farmers who contacted me about coming to their properties to hunt because they heard I was responsible and willing to shoot does. I just couldn't work them into my schedule. Follow these tips and you might have the same problem one day as well.
Bruce Ingram is a QDMA member and freelance outdoor writer from Fincastle, Virginia, and he is a regular contributor to QDMA's Quality Whitetails magazine. The hunting property he now owns and manages for deer is enrolled in QDMA's Land Certification Program. Bruce writes a weekly blog titled Bruce Ingram Outdoors.