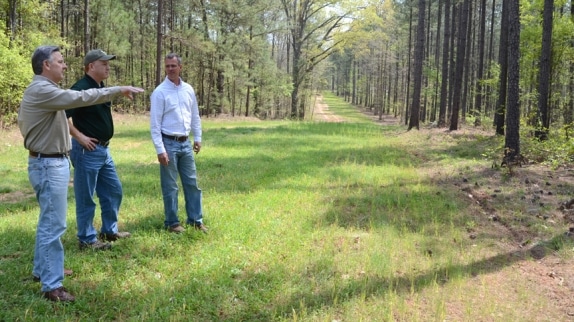 Managing land for wildlife can be an expensive endeavor. If you have any doubts, just take a look at the price of seed, fertilizer, lime, and herbicide. For most of us, however, managing our hunting land is a labor of love. It's also an investment. The return is not measured in dollars and cents but in the satisfaction of knowing that the wildlife on our property is healthier and more abundant because of our efforts. That's not to say, however, that a little financial help wouldn't be much appreciated!
Fortunately, there are resources available for landowners that can provide assistance when it comes to improving habitat for wildlife. Before you get too excited, though, let me say up front that I am not aware of any programs that will pay for your favorite whitetail food plot. Instead, most of the state and federal landowner assistance programs focus on long-term habitat improvements or practices that benefit threatened or endangered species.  However, that doesn't preclude those of us managing properties for whitetails from taking advantage of these same programs.
The first step to wading your way through the sea of conservation program acronyms usually begins with a call to your state fish and wildlife agency. Most agencies have some type of private lands program that will provide free technical guidance to land managers. It may simply be a phone consultation, but many will be glad to offer a site visit. These private lands biologists should be able to point you toward the programs that will meet your management objectives based on your property's current habitat and land use.
If for some reason your state doesn't provide such a service, then your next stop would be the nearest USDA Natural Resource and Conservation Service (NRCS) office. These offices house a District Conservationist that should also be able to assist you with some of the federal conservation programs.
Let's take a look at a few of the most common wildlife-related programs that may just help ease some of the costs associated with making your property a wildlife mecca.
STATE PROGRAMS
Some states – such as Kentucky, where I first began my wildlife career – have programs that offer some level of cost-share assistance for landowners engaged in certain habitat improvement practices. Often, the amounts are small due to budgetary restraints of state fish and wildlife agencies, but every little bit helps when it comes to managing land for wildlife. Again, many of these programs focus on practices that benefit threatened and endangered species, but some of those same techniques also benefit whitetail deer.
FEDERAL PROGRAMS
CRP – General and Continuous Sign-Up
By far, the most widely known and widely used federal program that benefits wildlife is CRP – or theConservation Reserve Program. CRP pays landowners to take land out of agricultural production and plant it in some type of permanent cover. While the program is primarily focused on reducing erosion for the benefit of soil, water and air quality, the benefits to wildlife over the last 25-plus years have proven tremendous.
There are two main types of CRP – General and Continuous Sign-Up. General CRP is only available when the USDA Farm Services Agency (FSA) schedules an open-enrollment period. During this open enrollment, landowners can apply for the program, and once the enrollment period closes, all the applications are ranked according to how much benefit they will provide and only a certain number of applicants will receive funding.
Continuous Sign-Up practices, as the name implies, can be applied for at any time, and as long as your land meets the requirements of the practice, then you will be eligible to receive funding.
To be eligible for placement in CRP, land must be either:
• Cropland (including field margins) that was planted to an agricultural commodity 4 of the previous 6 crop years; or
• Certain marginal pastureland that is suitable for use as a riparian buffer or for similar water quality purposes.
The benefit of enrolling in CRP, as opposed to other conservation programs, is that it not only helps cover the cost of the initial habitat work, but also provides an annual rental payment for the life of the CRP contract (typically 10 to 15 years).
WHIP
The Wildlife Habitat Incentive Program (WHIP) is one of the few programs aimed directly at improving habitat for wildlife. It is administered by the NRCS to provide both technical assistance and up to 75 percent cost-share assistance to establish and improve fish and wildlife habitat. WHIP cost-share agreements typically last from one year after the last conservation practice is implemented but not more than 10 years from the date the agreement is signed. The practices supported by WHIP usually vary from state to state depending on which habitat types are more critical in that respective area.
EQIP
Last, but certainly not least, the Environmental Quality Incentives Program (EQIP) provides financial and technical assistance to agricultural producers to help plan and implement conservation practices that address natural resource concerns and for opportunities to improve soil, water, plant, animal, air and related resources on agricultural land and non-industrial private forestland.
SUMMARY
One could write a really thick book covering all of the various state and federal conservation programs. That is why consulting with a state wildlife biologist or NRCS District Conservationist is so important in helping you wade through all of the eligibility requirements and details. In the end, one of these programs could be just what you need to maximize the dollars spent on your property and truly take your wildlife management efforts to the next level. You'll never know until you make the call and see what's out there for you.
Did You Know? QDMA advocates for sound wildlife policy on behalf of its members, and that includes working to sustain and improve Farm Bill initiatives like CRP and other cost-share programs for the benefit of habitat managers – and wildlife habitat. Consider joining QDMA to help us do even more for the future of wildlife habitat!