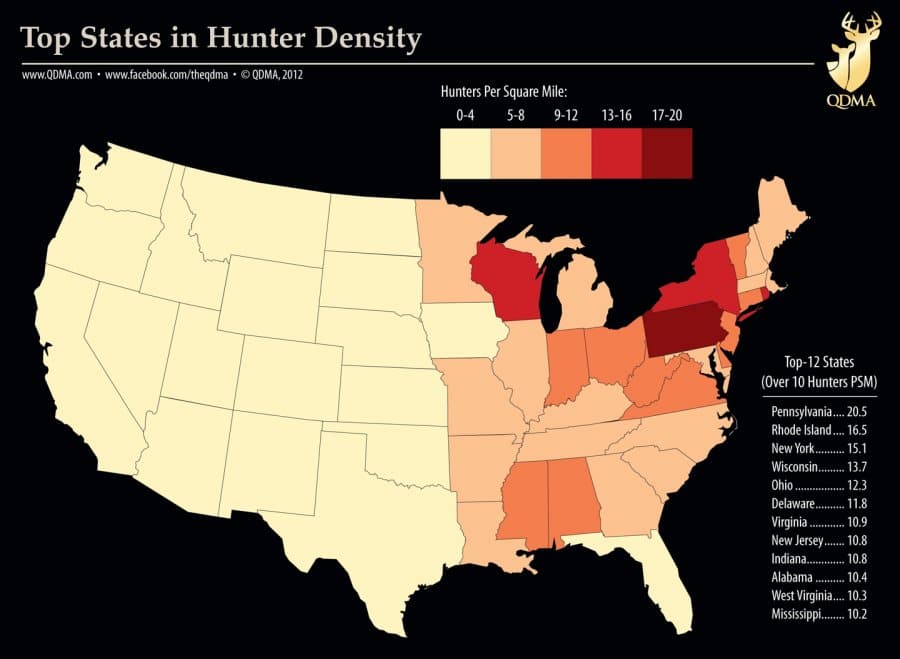 Deer management strategies, techniques and opportunities vary widely across the whitetail's range. Many variables impact deer management programs including winter severity, annual precipitation, soil quality, available cover types and hunting culture. One additional variable that carries tremendous weight, but is often overlooked, is the amount of hunting pressure in a given area.
In general, hunting pressure refers to the number of hunters on the landscape, and it can relate to coverage in terms of area as well as time. It is difficult to equally assess hunting pressure among states as some have vastly longer seasons than others. For example, South Carolina's deer season is one of the longest in the U.S. and runs from mid-August to January in some zones. However, we can assess relative hunter densities among states by comparing the number of hunters to each state's total area. Granted, some states have more urban areas or water bodies, but the map that accompanies this article does a pretty good job comparing hunter densities, especially across regions (Click on the map in the Gallery below to enlarge it).
I've been fortunate enough to hunt whitetails in eight different states from New Hampshire to Florida to Texas to North Dakota, and it was always very clear that my home state of Pennsylvania had a much higher hunter density than the others. After crunching the numbers it is clear why. Pennsylvania leads the country with an average of over 20 hunters per square mile (PSM)! For comparison, other popular whitetail destinations like Michigan, Iowa and Texas only have 6.7, 4.5 and 4.4 hunters PSM, respectively. In fact, Pennsylvania has a higher hunter density than those three states combined! I based this analysis on statistics from the US Fish and Wildlife Service's 2011 National Survey of Fishing, Hunting and Wildlife-Associated Recreation.
Let's take a regional look at this variable. The West has the lightest hunter densities – by far – by averaging only 1.2 hunters PSM. It's no wonder you can hunt for days in the West and never see another hunter. In fact, Washington has the high density in this region at 3.1 hunters PSM and only two states (Nebraska and North Dakota) east of the Rocky Mountains have lower numbers.
As a group, the Midwest averages the next lowest density at 6.1 hunters PSM. Densities range from 1.2 in North Dakota to 13.7 hunters PSM in Wisconsin. Kansas and Iowa are well known "record-book" destinations and both average fewer than 5 hunters PSM. There are many ways to move bucks into older age classes, and one that works well for some states is having light hunter densities.
Nearly identical to the Midwest, the Southeast averages 6.2 hunters PSM, and densities range from 3.5 in Oklahoma to 10.2 in Mississippi and 10.4 hunters PSM in Alabama. Florida, Oklahoma and Texas all average less than 5 hunters PSM. Texas leads the nation in number of hunters but it is also the largest state in the whitetail's range, so hunter density is light.
Notably, the Northeast averages nearly twice as many hunters PSM as the Midwest and Southeast, and about 10 times as many as the West. Not a single northeastern state averages fewer than 5 hunters PSM, and Pennsylvania averages more than 20 hunters PSM. In fact, Delaware, New Jersey, New York, Pennsylvania, Rhode Island, Virginia and West Virginia all average more than 10 hunters PSM! It's no wonder crowding is such a big issue in the Northeast. Granted, the Northeast's forests and mountainous terrain can handle more hunters than flat, open country, but hunter density is a major factor to consider when implementing deer management programs.
How do you combat high hunter density? In most areas there is no easy trick to reducing the number of hunters on a large scale, and in most cases, you don't want to. Every hunter is important to our wildlife management system and to the future of hunting. Rather than reducing hunter numbers, it is generally better to reduce their impacts in areas of high hunter density. Spreading hunters across a property, limiting ATV use, and paying close attention to wind direction can all enhance hunting opportunities without reducing the number of hunters.
One more way to combat high hunter density is to go bowhunting! Be sure to click on the second map in the Gallery below that shows the same information as the Hunter Density map, except for bowhunters only.
QDMA's mission is to ensure the future of white-tailed deer, wildlife habitat and our hunting heritage. Support this mission by becoming a QDMA member today!