Follow Lindsay on Twitter and Instagram.
Persistent drought conditions in the Southeast that appeared in fall and have lingered into early spring are setting the table for a damaging insect that dines on pines – the ips engraver beetle (Ips spp). Forest landowners and deer habitat managers should be on the lookout for damage and be ready to report it, especially if drought conditions persist or worsen in 2017.
"Whenever pine trees are attacked, they respond with resin, and they need water to make that resin," said Dr. David Coyle of Southern Regional Extension Forestry, who runs the Forest Health and Invasive Species program. "In a normal year, pines have stronger defenses, but in a drought like we have now, trees are stressed and can't make enough resin."
There are four species of ips beetles native to various regions of the Southeast, and they are always present at low levels. They don't attack healthy trees but instead focus on stressed trees for feeding and as a site for meeting mates. Due to the drought, stressed trees are abundant.
"Once one beetle enters a tree, they give off odors and attract others, and you can have hundreds to thousands of beetles in a single tree," said David. "They'll finish developing in that tree and then go to find another one."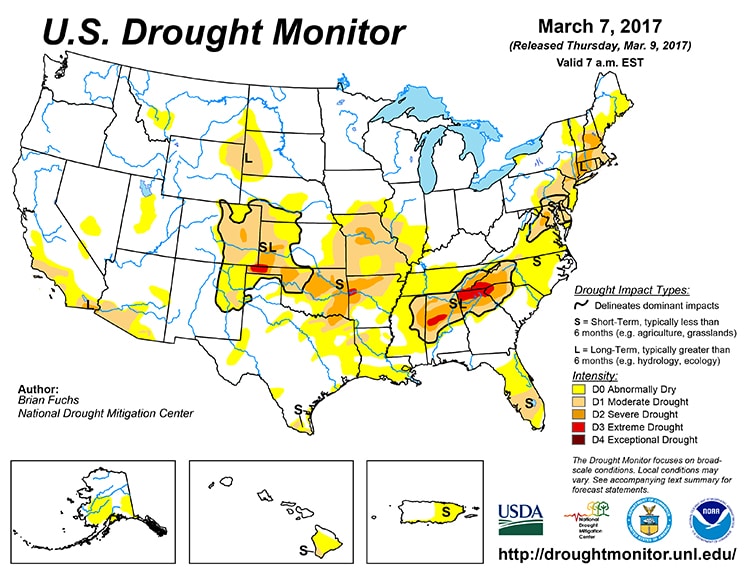 Currently, outbreaks are popping up in Alabama, Georgia and north Florida, with smaller problem areas in other states. Problems with southern pine beetles (Dendroctonus frontalis) are also above normal right now, said David, for the same reasons.
"We started seeing reports last October and into November, and we started seeing trees brown up and die. Then December arrived, it rained a little and got cooler, and that put a pause on the activity," said David. "But we had a warm winter, and now we're seeing more trees start to die. If we get rain, the problem may go away. Not enough rain, and it's gonna get worse."
As of March 9, the U.S. Drought Monitor showed extensive areas of moderate and severe drought conditions from Oklahoma to North Carolina.
What should you look for? David said look for a pine tree's needles to turn from green to yellow, to red, and then to brown. External signs of beetle activity on the trunk may also be visible. If you suspect a tree has been attacked, contact your state's forestry agency or Extension forestry specialist for guidance on appropriate control techniques.
To help prevent insect trouble, David recommends forest managers impacted by drought work with their state forestry agency before using prescribed fire. This is to ensure the fire is implemented correctly. Prescribed fire that gets too hot will add stress to trees already suffering from lack of moisture.
Click here for a useful fact sheet about ips beetles.