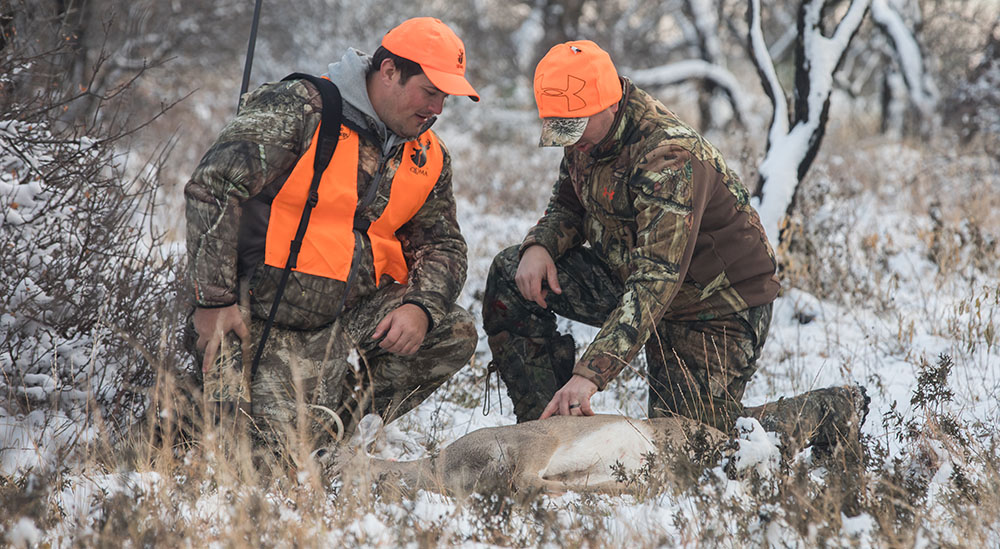 I've always had an affinity for helping new hunters. That likely stems from the struggles I endured as a young, aspiring hunter without a mentor. I sometimes look back and cringe at all the rookie mistakes I made along the way and my painfully slow evolution as a hunter. Many of those mistakes could have been avoided, or at least minimized, had an experienced hunter been around to show me the ropes. So I've tried to be that person for my kids, friends, and others I've met along the way. Being able to help some of these folks taste their first success as a hunter has made for many of my most rewarding hunts, and seeing some of the youth I've mentored grow into adult hunters and some of the adults go on to teach their kids to hunt gives me an enormous sense of pride.
Admittedly it's been a few years since I've taken a new hunter under my wing, so I have made it a personal goal this year to change that. And the sole purpose of this article is to get you to set a similar goal, if you haven't already. Maybe you don't have any kids or grandkids around who need a hunting mentor. That's okay. There are plenty of others out there — kids and adults alike — who would love the opportunity to go hunting. They just need someone to take that first step and ask.
The Importance of Mentoring
Chances are you've seen the headlines highlighting the decline in hunter numbers. Despite how it may seem where you hunt, fewer people are buying hunting licenses and heading afield than ever before. In fact, we've lost nearly 2 million hunters just within the last five years. Baby Boomers are aging out of hunting, and we aren't replacing them fast enough to keep the ship afloat. That scares me; and if you truly care about the future of our hunting heritage, it should scare you too.
For years, state wildlife agencies and conservation organizations have focused on recruiting new hunters through a variety of youth-oriented events. And while that is a noble undertaking, it hasn't had the result we all hoped for. The problem with youth hunts is that when the event is over, if the child doesn't have someone in their family or circle of friends to continue taking them hunting, they may soon lose interest and move on to the next thing. Lord knows there's no shortage of activities these days to keep kids occupied. That is why having a dedicated mentor is so important. Those youth need someone to keep them engaged in hunting if we are to have any hope of turning them into life-long hunters.
What we are now figuring out, through programs such as QDMA's Field to Fork, is that adults make much better targets for new hunter recruitment. They are more likely to have the means and ability to continue hunting on their own once they learn the basics, provided they find hunting is something they enjoy. And when you create an adult hunter, they are much more likely to pass that tradition on to their children and friends, which multiplies the recruitment efforts. So don't overlook your adult friends, family and coworkers when it comes to mentoring a new hunter. And don't just focus on the ones who most fit the traditional hunting mold (you know, us middle-aged white guys). You'd be surprised at who may be willing to give hunting a try if asked. There's a whole new demographic of people out there who have a desire to eat healthy, locally sourced foods, including wild game. And they want that connection of being involved in the entire field-to-fork process. They just need someone to show them the way.
For years, state wildlife agencies and conservation organizations have focused on recruiting new hunters through a variety of youth-oriented events. And while that is a noble undertaking, it hasn't had the result we all hoped for.
If a potential mentee doesn't immediately come to mind in your circle of friends and family, put out the word that you are willing to take a new hunter under your wing. You can reach out to neighbors, coworkers or friends you may know through church or a civic organization. Chances are it won't take long to find someone who will gladly take you up on that offer. In fact, I have discovered that once word gets out that you take new hunters afield, they have a way of finding you!
Set Expectations
Once you've asked around and found someone to mentor for this fall, now what? The first step should be a get together with your new mentee — perhaps over some venison or other wild game dish — to discuss each other's expectations. You will need to guide the new hunter to purchase the necessary licenses and permits, and possibly help them complete their hunter education requirement. Some states offer an apprentice hunting license that will allow a new hunter to hunt for a specified period of time prior to completing hunter education. Be sure to check your state's requirements before heading afield. You'll also want to find out exactly what your mentee expects, as far as what they would like to hunt, and what type of weapon they are comfortable hunting with. You need to ensure they have all the equipment needed to participate, and the more you can supply initially, the better. Don't let equipment expense be the hurdle that keeps them from getting involved.
Train Them Right
Now that each of you understands the other's expectations, the next step is helping the new hunter prepare for the upcoming hunt. This may involve allowing them to practice with their weapon of choice — providing they aren't already doing so on their own.  You can also include them in the hunt preparation, as far as scouting, running trail-cameras, and hanging deer stands. This is a great opportunity to get them in the field learning woodsmanship and discussing conservation, hunting techniques and hunter ethics. Don't just have them tag along to watch you work. Get them involved in the process, and be sure you're not only explaining how to do those things, but also why we do them. All your efforts should be focused on preparing them to be able to hunt on their own once they feel ready.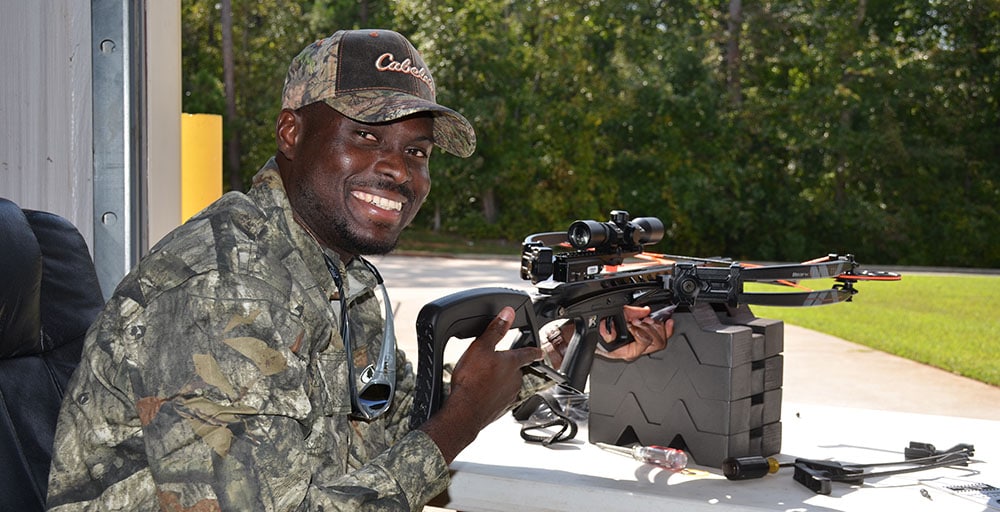 Make Them Comfortable
When the day finally arrives to go hunting, remember that your number one objective is to make sure they have a good time and are comfortable with the whole experience. Use the time spent in the stand or the blind to get to know them better as well as to teach them about hunting and the role it plays in wildlife conservation. Unless your mentee is someone you know very well, avoid controversial topics like politics and religion.
Another thing to keep in mind is their motivations for hunting. Success to your mentee may mean something completely different than it does to you. With this in mind, avoid putting restrictions — beyond what the state regulations require — on what they can harvest. If it's legal and will make them happy, then let them squeeze the trigger and have that early taste of hunting success.
Finally, if a shot opportunity presents itself, be prepared to help keep the new hunter calm and focused on the task at hand. If you've ever mentored a new hunter and were there when they pulled the trigger on their first deer, you know how nerve-racking it can be. In my experiences, I was usually more nervous than my mentee. But I try to use those moments to guide them to making a good clean kill — reminding them to wait for the deer to present a good, broadside shot; take a deep breath; put the crosshairs behind the shoulder where we discussed; and when you are ready, gently squeeze the trigger. If they aren't comfortable with the shot or just decide not to take the shot, be supportive of that decision.
Continue to Be There for Them
Being a good hunting mentor goes beyond just taking someone hunting one time. If our goal is to create a new hunter, then we need to continue to provide them with guidance and a place to hunt until they are confident enough to go on their own. The time needed to accomplish this is going to vary from one mentee to another. So, be sure to set aside time to take them hunting throughout the season, and continue to educate them on hunting and conservation.
Once they are able to harvest their first deer or game animal, then the real teaching begins, as you will need to guide them through the field dressing and butchering process. You may or may not need to guide them through some of the food preparation process, as well.
Final Thoughts
If we are to turn the tide on declining hunter numbers, it is going to take a group effort. If each of us would just recruit one new hunter this fall, we could easily reverse the trend and hunter numbers would skyrocket. Sadly, many will not make that effort; but I urge you to be one who will. If you're not comfortable being an in-person mentor, at least consider being a digital mentor through the Powderhook app. If you haven't heard of Powderhook, they're a hunting app company whose technology focuses on helping hunters have a great day outdoors. They accomplish this through what's called Digital Mentoring, which involves answering new hunters' questions, sharing your experiences, providing guidance, and pointing people in the right direction. If you are interested in becoming a digital mentor, you can get signed up here.
United we stand and divided we will fall. Let's unite and ensure the future of our hunting heritage by being a mentor this fall.