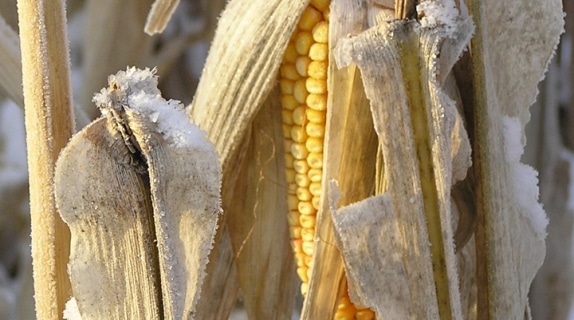 "Is your corn in?"
This was an extremely common statement across much of the whitetail's range this spring. Cool temperatures, extravagant seed prices, excessive rain events, and in some cases a shortage of seed left many deer managers and hunters out in the cold or at least a couple of weeks behind on their corn plots from a year ago. In fact, in my area in north-central Pennsylvania the soil temperature was ready for planting more than two weeks later in 2013 than in 2012.
Corn needs 55° to 56° Fahrenheit soil temperatures to germinate. You can measure this with an inexpensive meat thermometer to monitor when the time is right to plant. Plant too early and you risk losing your crop (or having to replant). Plant too late and you sacrifice the number of days the corn can grow before the onset of cold weather. In 2012, appropriate soil temperatures arrived in my area on April 30, but in 2013 they didn't occur until May 16.
Soil temperature can vary widely based on daily air temperatures and the presence or absence of ground cover. Here are the actual soil temperatures taken 2 inches deep at 8 a.m. at my home in Tioga County, Pennsylvania: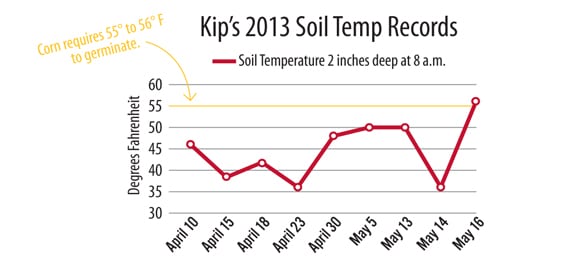 The big swings in temperatures from May 13 to May 16 were largely due to a severe frost on May 14. Daylight arrived that morning with 23° temperatures! We had three frosts during May with the last occurring on May 27. However, a frost on Memorial Day weekend is far better than the 30-plus inches of snow that fell that same night on Whiteface Mountain near Lake Placid, New York.
The next hurdle many corn fans dealt with was high seed prices and/or a shortage of seed. I received numerous inquiries about using leftover seed from 2012 (and even some from 2011). My advice is to absolutely take advantage of these opportunities. Production agriculture folks can't, but deer managers certainly can. Make friends with a local farmer. Offer to help around the farm, share some venison, etc., and maybe you can get their leftover corn seed at the end of planting season to use next year.
Worried about reduced germination with leftover seed? Then do a simple germination test. The photo in the gallery below is from my personal test this spring. A farmer friend gave me four partial bags of corn from 2012. I planted 10 kernels of each in separate pots in early April (well before planting time, so the pots stayed inside my house at night and much of the day). Then I monitored their germination rate. Two of the bags had 100 percent germination, one had 90 percent, and the final bag had 80 percent germination (8 of 10 kernels germinated). Armed with this knowledge, I could plant the corn from three of the four bags at the normal seeding rate and be confident with the results. The seeding rate for the bag with 80 percent germination could be increased by about 20 percent to help ensure a successful seeding. The list price for the corn I received was $200 to $250 per bag, so while I won't put my kids through college on the savings, I was still extremely grateful for the gift.
There are numerous conservation seed programs in the U.S. that sell seed at reduced prices or give away leftover seed. If you have the opportunity to acquire seed in this manner, take a few minutes to conduct a germination test and then adjust your seeding rate if necessary. You likely cannot get all of the seed you need in this manner, but the savings can be used to plant additional acres or go toward that new bow or trail-camera you desperately need.
Wherever you are in the whitetail's range, I hope you and/or your hunting pals had a successful planting season and good luck this fall.