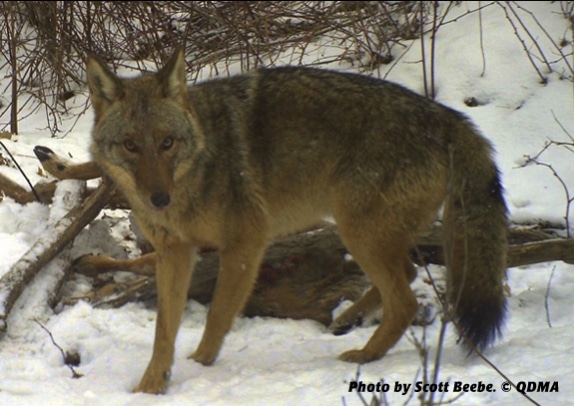 Predators are a hot topic for deer hunters and managers throughout much of the whitetail's range. Black bears, wolves and bobcats each take their share of deer, but coyotes are receiving the lion's share of attention. Several recent research projects in the southeastern U.S. have shown significant impacts on fawn survival and recruitment rates (see pages 50-53 in the 2011 Whitetail Report). Many hunters express concern over coyote predation of deer and share their desire to increase removal of coyotes in the area(s) they hunt.
If fawn survival is low in your area as a result of predation the first step is to improve fawning cover. Provide fawns a better chance to hide and make it more difficult for coyotes and other predators to find them. The next step is to improve the quality and quantity of nutrition available to the deer herd. Healthier does produce healthier fawns that are better able to avoid predation. Importantly, North Carolina researchers Marcus Lashley and Colter Chitwood reported many fawns eaten by coyotes in their research project were malnourished and were vocalizing (bleating). Coyotes responded to these calls for quick and easy meals. Presumably at least some of these fawns would have survived if their mothers were on a higher nutritional plane. Once both of these items are addressed, coyote removal may be warranted.
From a predator control perspective, most sportsmen and women already have extremely liberal seasons to hunt coyotes (see page 16 in the 2012 Whitetail Report). However, given coyotes' high reproductive potential and ability to avoid humans, it is unlikely that hunting will sufficiently reduce coyote numbers in most situations. For most deer managers interested in reducing coyote populations, aggressive trapping programs will be required.
Similar to hunting coyotes, trapping them is difficult, and most sportsmen and women simply do not have the time or skill necessary to remove a sufficient number of coyotes to effectively reduce their populations. Some population models suggest you have to remove 75 percent of coyotes annually to lower their numbers. For the vast majority of deer managers this is an unrealistic goal. However, you can temporarily reduce coyote numbers and enhance fawn survival by removing them immediately prior to fawning. For most whitetail herds the majority of fawns are born in June and July. Thus, removing coyotes in April and May can pay big dividends.
Depending on your location this may or may not be allowed. Six of 13 states in the Midwest have no closed season so you can trap coyotes during those crucial pre-fawning months. These states include Kansas, Minnesota, Nebraska, North Dakota, Ohio and South Dakota. Indiana and Michigan's season end in March, and the other five states' seasons end in January or February. These states include Kentucky Illinois, Iowa, Missouri and Wisconsin. Of all the states in the Midwest only Illinois has increased the coyote trapping season in the last five years.
The Southeast is much more liberal than the Midwest as 6 of 11 states have no closed season (Florida, Georgia, Mississippi, Oklahoma, Tennessee and Texas), Alabama has no closed season on private lands, and South Carolina has no closed season for landowners with a predator management permit. Only Arkansas, Louisiana and North Carolina require you to stop trapping prior to April. Thus, in most of the South you can trap coyotes during the crucial pre-fawning months. Also, Arkansas, North Carolina and South Carolina have all increased the length of their coyote trapping seasons in the last five years as a response to sportsmen's desires and/or decreasing fawn recruitment rates.
The Northeast is very different. Only Rhode Island and Virginia have no closed season and it is only for private lands. Maine, Massachusetts and Vermont close their seasons before January; and Maryland, Rhode Island (state land), Pennsylvania and West Virginia close the season in January or February. Connecticut, New Hampshire, New Jersey and New York allow trapping in March, and Delaware has a proposed trapping season that would end in March. Thus in most of the Northeast you cannot trap coyotes during the crucial pre-fawning months. This may become important in the near future as many states have experienced increasing coyote harvests recently, suggesting population growth. For example, New Jersey's 2011 coyote harvest was 28 percent above the state's five-year average, New York's increased by 39 percent, Massachusetts increased by 48 percent, and Rhode Island's was 79 percent above its previous 5-year average. In the Northeast only Maryland has increased trapping seasons in the last five years.
Predators, and especially coyotes, have successfully invaded all areas of the whitetail's range; assuring that they'll be an annual variable in deer management programs throughout North America for at least the foreseeable future. Whether rural or urban and North or South, coyotes are now part of the dynamic relationship between deer and the environment. Coyotes can affect deer herds positively or negatively, so their presence can't be summed up with a broad generalization. Their actual impacts will need to be measured and monitored at the local and regional levels, and deer seasons and bag limits can be adjusted where necessary. The important thing is to realize they are now a player in many deer management programs, and as managers, we need to acknowledge them as such.