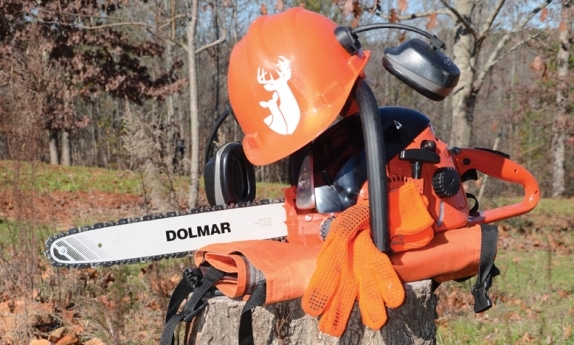 As many QDMA members know, a chainsaw can be one of the most valuable tools for improving whitetail habitat. However, used incorrectly, it can also be the most dangerous. Recently, I was fortunate enough to attend Levels I and II of Soren Eriksson's Game of Logging, a hands-on chainsaw training program focusing on safety, productivity, conservation and cutting techniques. This is one of the few training courses I've attended that rivaled the quality of QDMA's own educational events, including our Deer Steward training courses.
Levels I and II of Game of Logging were taught entirely in the field with every student bringing their own chainsaw and personal protective equipment (chaps, hard hat, and ear and eye protection). Students ranged from inexperienced chainsaw users, to folks who use them only to cut firewood, to professional loggers. I've run a chainsaw for more than 30 years, and I was amazed at the amount of information I learned about safety, maintenance and saw operation. We learned overall safety with regard to starting and operating a saw. We learned how to fell trees; including how to determine the minimum hinge length and width needed for safe felling, how to properly cut the notch in the tree, and how to finish felling the tree using bore cuts. We were taught how to use wedges to fell trees in directions other than where they were leaning. We learned how to aim the direction a tree would fall using the "lines" on the saw and how to safely cut "spring poles." We learned how to properly sharpen the chain, perform maintenance on the saw, and so much more.
The best part was it was all hands on. Every student literally felled a tree, and I don't mean a sapling or small polewood. We felled red oaks, white oaks and hemlocks ranging from 16 to 20 inches DBH (diameter at breast height). These were big trees that could severely injure or kill you in a heartbeat if felled incorrectly. Students learned from the tree(s) they felled as well as the trees other students felled. With regard to using a chainsaw to manage forested habitat for whitetails, it was the perfect training classroom. Anyone using a saw to clear areas for food plots, hinge-cut an area, conduct a shelterwood cut or any other timber stand improvement (TSI) work would benefit from this course. I thoroughly enjoyed the training, and I strongly encourage anyone who uses a chainsaw to attend a Game of Logging course.
Finding a course near you, and perhaps a course geared specifically toward deer habitat managers, may soon become much easier. Dolmar Power Products is a QDMA corporate partner and also a sponsor of Game of Logging. We are currently working with Dolmar to develop a strategy to provide Game of Logging courses for interested QDMA members. We'll keep you posted on developments! In the meantime, here's a look at one thing I learned that will be very useful: How to tune my saw's carburetor.