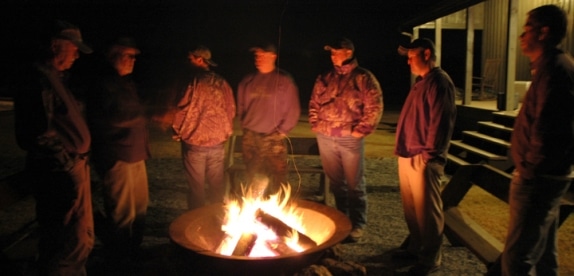 Labor Day has passed, and the unofficial end of summer means archery season is nearly upon us. We've even had our first frost in north-central Pennsylvania. Dawn arrived on September 6 with a heavy sheet of ice on my truck's windshield. That was exactly 102 days since our last frost on May 27. One hundred two days between frosts is great for keeping insect pests and hemorrhagic disease to a minimum, but it certainly makes for a short growing season from an agricultural perspective.
Food plots aside, most hunters prepare for hunting season by hanging stands and trail-cameras and by shooting their bows and guns. These are necessary, but preparing for the hunting season should also include a meeting with everyone who will be hunting on a particular property. For me, September means it is time for our annual camp meeting and work day. This is a great day for the guys (and girls – my daughter and my best friend's daughter) to get together to cut wood, repair anything needing attention at camp, and more importantly, go over our camp talk.
The camp talk is a good opportunity to discuss where we are relative to our Quality Deer Management goals, what to expect for the upcoming season, and what our target antlerless harvest will be. Specifically, here is what I cover with our crew.
Recap The Prior Season – I begin with a recap of the previous season showing photos of deer, bear, turkeys and coyotes we shot as well as some pictures of bucks our neighbors shot. I follow with photos of bucks shot in our neighborhood during the past few years. It's always nice to reminisce on successes of our QDM program, and this typically draws some hearty cheers from the gang.
Annual Survey Data – I present the results from our spring pellet count and browse survey and from our summer trail-camera survey. I have seven years of pellet and browse data and nine years of camera data, so we have some great trend information for what's happening with the deer using our property. The surveys provide a great double-check of the deer density, and when combined with harvest and observation data, we have a really good feel for the density, sex ratio, age structure, productivity, and health of the herd and habitat. Our camera survey always ends Labor Day weekend, so I include pictures of each individual buck we photographed. This provides a good snapshot of bucks using the property and creates tremendous excitement for our hunters. It also causes a little angst among our firearm-only hunters who may secretly hope the nicest bucks make it to rifle season (We're all good friends at camp but it's no secret that some guys flat out pray the nicest bucks don't get taken before the rifle season opens after Thanksgiving).
Habitat Work – I go over the habitat work performed during the year including any browse cutting, TSI projects, wetland work and tree plantings. I also cover the status of our food plots and include what is planted where and the productivity of each plot.
Deer Harvest – I cover our buck harvest requirements to ensure everyone is crystal clear on what we'll shoot and pass. Nothing is more deflating for a hunter or camp member than to have someone shoot a buck that doesn't meet your criteria. Education and communication are the keys to combat this – combined with some good ribbing and a little peer pressure. If you shoot a buck that doesn't make the cut at our camp, there's no fine involved. However, you lose the ability to shoot a buck the following year, because you've essentially shot that buck a year early. You can still come to camp, shoot antlerless deer, and do everything else that camp guys do, but you just can't shoot a buck. That said, I'm proud to state that our camp has not shot a buck that didn't meet our harvest criteria since 2002. We've been through 10 hunting seasons with no mistakes. That's not by coincidence, that's due to commitment and effort by our camp members.
If you're wondering what our criteria are, it's pretty simple. Youth hunters are allowed and encouraged to shoot any buck they see. Pennsylvania has a one-buck limit, and their buck can range from the smallest yearling spike to the biggest deer on the farm. Adult hunters must shoot bucks that meet 1 of 2 criteria: bucks must be 3.5 years or older or they must have at least a 16-inch inside spread. Some of our hunters pass 3.5-year-olds, some don't, and this criteria works very well for us. Also, anyone who shoots a buck pays a $20 cementum annuli aging fee as we send all buck incisors away for analysis.
During this portion I also provide our target antlerless harvest. I calculate it each September using our harvest, observation, pellet, browse and camera survey data, with a close eye on where we are relative to our deer density goal. I also include a dose of "gut feeling" using my knowledge of the local pre-season deer herd. This part ends with a review of what harvest and observation data everyone needs to collect/record, how to do so, and why it is important to collect/record this. It's amazing how this simple message improves the quality of data I receive.
Rules – whether it's football, bull riding or hunting, you need a set of rules, and they should be reviewed with the group before the season commences. Our #1 rule is to have fun! Far too many people get hung up on inches of antlers or where you can go on a property and they forget that hunting is fun. We have driving and hunting restrictions too, but we balance them with our desire to enjoy the woods with family and friends. This part of the talk includes a reminder to stay on our land, to not break any game laws, and concludes with a session on firearm and treestand safety.
Current Research – I always include current research that may help our crew see and (hopefully) shoot more mature bucks. This year's talk includes information on mature buck movement patterns and hunter avoidance. Click here or see the article "Seeing and Killing Mature Bucks" on pages 10-13 in the October/November 2013 Quality Whitetails if you're interested in this information.
Grand Finale – I'm an optimist and I end the talk on an upbeat note about the upcoming season. Sports have played a big role in my life, so maybe this comes from too many pre-game pep talks. Whatever the reason, I always end with photos of the nicer bucks on the property. The value of trail-cameras cannot be overstated when it comes to capturing information on the deer herd or sharing it with fellow hunters.
Good luck this season, and I hope you have as much fun with your camp talk as I do with mine!
Did you know? As QDMA's Director of Education & Outreach, Kip Adams works full time putting the QDMA mission into action: Ensuring the future of white-tailed deer, wildlife habitat and our hunting heritage. You can learn more about Kip's efforts, and all of QDMA's mission work, in the QDMA in Action menu. Support our mission today by joining QDMA!