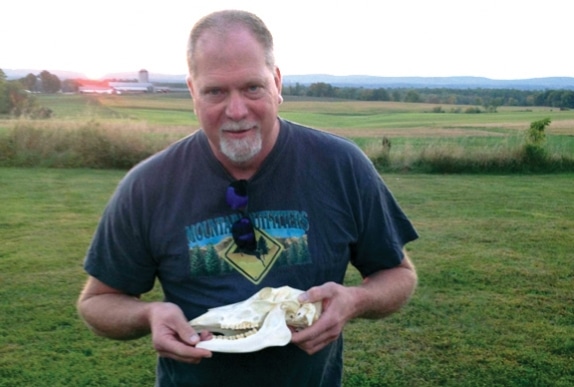 It was 1993, and Bill Clinton was sworn in as President. Jurassic Park was released. The premier issue of Quality Whitetails magazine was sent to QDMA members, and a whitetail doe was born in rural Washington County, New York. Though three of these four events likely evoke a memory or have some meaning for you, the last one stands out and remains a jaw-dropper for me and my hunting companions, particularly for my friend Mark Lewis.
Mark and I hunt on the same QDM Cooperative, and he killed an adult doe during the 2013 hunting season that immediately grabbed my attention when I saw it at our check station – she had no teeth. I don't mean her pre-molar and molar teeth were worn down to cupped pools of brown dentine, which they were. I don't mean they were small nubs. I mean as soon as I grabbed her chin to take a look at those pearly whites, I noticed her incisors appeared to be missing. They were absolutely worn away to the gums. I took a photo of what I saw: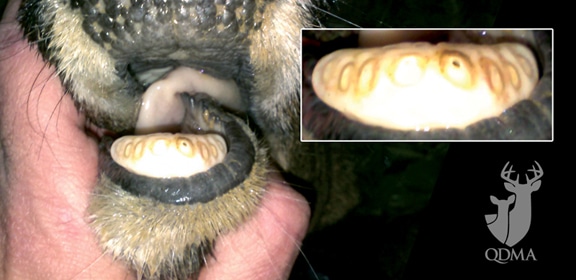 Then, a few weeks later, another doe on the Cooperative was killed with the same toothless affliction.
Highly worn teeth and old does were expected in this area, as doe harvest and Quality Deer Management (QDM) were relatively new ideas here. In fact, tracking the proportion of older does killed in the annual harvest was a key tactic at the outset of our Cooperative to help determine when we could decrease or even stop the doe harvest. But, I was so shocked by the sheer amount of wear on both does' incisors that I made sure to include samples from each in the collection of buck incisors we mailed away for cementum annuli analysis that year.
I was shocked again when I received the results. The second doe was 15½, and Mark's doe was 20½ years old when he killed her! That's Mark in the photo above, proudly holding the skull of his 20½-year-old doe.
As I studied the lab report, I wondered where I was and what I was doing 20 years before. Where were you, or what were you wearing, in 1993? Other questions started running through my head: Is this some kind of record? Was she the oldest deer ever killed in our county? How about in New York state? At last check, she was the second oldest whitetail ever aged by Matson's Lab. The oldest was a 22-year-old Louisiana doe. Crazy.
Regardless of where she ranks on the all-time scale of old does, the experience of learning this remarkable information taught me a few lessons.
Perhaps the most obvious, deer are truly amazing animals. They really are.
The other thing that stood out was that my appreciation for deer and deer hunting is enriched through QDM. How many hunters have killed deer like this across North America and lost out on the experience of learning something new because they didn't ask? They didn't look deeper? Or, they just plain didn't care? I know deer hunting is more fun for me because of QDM. Sure, I enjoy the camaraderie that is found in all deer camps. The pranks. The indoctrination of new, inexperienced hunters and the sage advice of seasoned veterans. The sharing of the harvest. The solitude. The adrenaline rush. But, through QDM, I also get to make a difference in what I see and what I kill. And I'm learning more about the animal I'm pursuing. To put it simply, QDM makes me a better deer hunter.
This season, take the time to look deeper. Ask questions. Don't miss out on a whole world of new experiences and learning. If you're not a QDMA member, join today. And if you're lucky enough to kill a deer, check out those teeth. Who knows, you might even share a birthday!