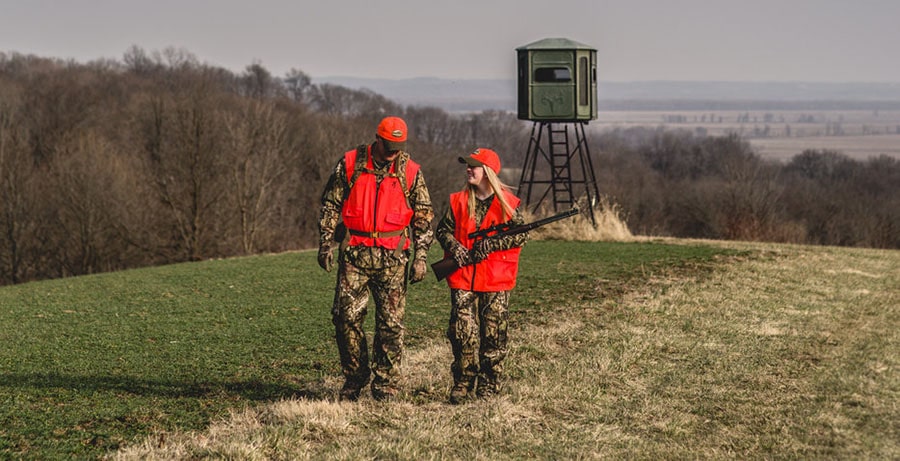 The National Deer Association (NDA) has been advocating through the beginning months of 2021 for expanded hunting provisions found in New York's Fiscal Year (FY) 2022 Budget. Among those provisions were proposals to expand crossbow use to regular big game seasons and allow junior hunters ages 12-13 to hunt big game with a rifle or shotgun when under the supervision of a parent, guardian, or mentor.
Recently, companion bills passed both the New York Senate and Assembly that enact into law major components of legislation necessary to implement the general government budget for FY 2022. Included in this legislation is a deer hunting pilot program that would allow a hunting license holder who is 12 or 13 years of age to hunt deer with a crossbow, rifle, shotgun or muzzleloader if certain conditions are met. First, the youth hunter must be accompanied by a parent, legal guardian or designated mentor who is at least 21 years of age, has had at least three years' experience in hunting deer and who holds a hunting license.  The parent, guardian or mentor must maintain physical control over the youth hunter at all times while hunting, and both the parent, guardian or mentor and the youth hunter must remain at ground level at all times. Second, both individuals must display either a minimum of 250 square inches of fluorescent orange or pink worn above the waist and visible from all directions, or a solid fluorescent hat or cap visible from all directions.
Additionally, the deer hunting pilot program will only take effect in eligible areas. Eligible areas will include counties that pass a local law authorizing participation in the pilot program and have notified the Department of Environmental Conservation (DEC) of such participation. Southern counties, including Westchester, Richmond, Bronx, New York, Kings, Queens, Nassau and Suffolk, are not eligible to participate in the program.
Finally, the deer hunting pilot program provision requires DEC to prepare a report by February 1 of each year including, at minimum, the number of violations, hunting related incidents and revocations, the number of counties participating, the number of minors participating and the number of deer taken.
While the deer hunting pilot program does not expand youth hunting opportunities in New York to the extent that NDA and our members have advocated for, the program is a significant step in the right direction. For the first time, hunters 12 and 13 years of age will be able to hunt deer in New York, and that's a big deal. Still, counties need to pass local laws that allow participation in the deer hunting pilot program within each county. We're currently working with conservation partners and NDA members to determine the best path forward to ensure as many eligible counties as possible participate in the program. Now that the budget has been signed by Governor Andrew Cuomo, we will soon have a better idea of how and where advocacy efforts should be focused. Then, we'll begin the process of engaging members and counties. Stay tuned!