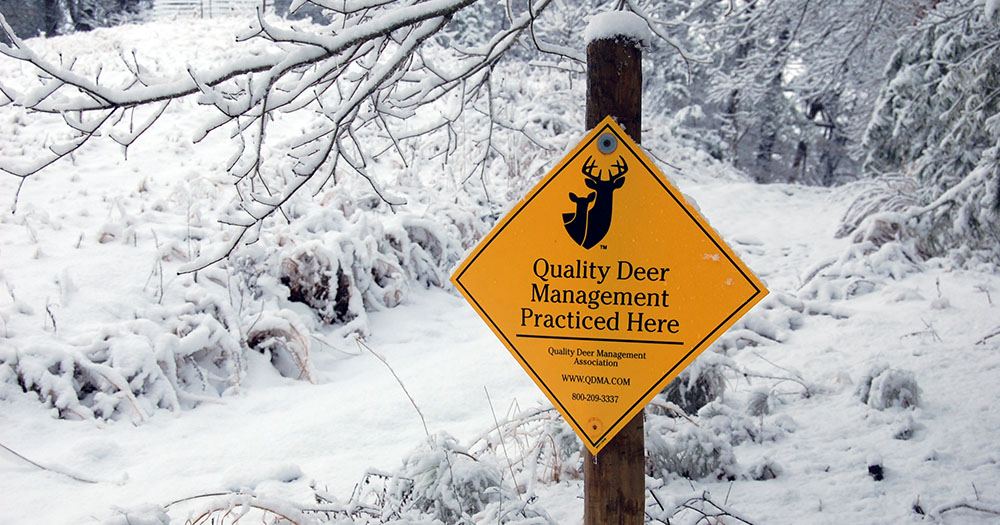 QDM is a household name in the deer hunting world today. You'd be hard pressed to find a deer hunter who hasn't heard of it, and surveys show the majority of hunters practice some form of it. A decade ago there was much personal and professional debate over the merits of QDM. Those arguments still exist in a few hunting camps today, but they're largely gone from the professional community. That said, it doesn't mean QDM is flawless or that it is preferred by all hunters. QDM clearly has some negative attributes. Fortunately, its benefits far outweigh them, and in the spirit of full disclosure, here are some of the pros and cons of this popular deer management strategy. 
A Little Background
Quality Deer Management (QDM) is a management strategy that unites landowners, hunters, and resource managers in a common goal of producing healthy deer herds with balanced adult sex ratios and age structures. This approach typically involves protecting young bucks while harvesting an appropriate number of antlerless deer to maintain herds within existing environmental and social constraints.  A successful QDM program requires an increased knowledge of deer biology and active participation in management. This level of involvement extends the role of the hunter from mere consumer to manager. The progression from education to understanding bestows an ethical obligation on the hunter to practice sound deer management. Consequently, to an increasing number of landowners, hunters, and deer managers, QDM is a desirable alternative to traditional and trophy deer management.
Texas is the formal birthplace of QDM. Beginning in the late 1960s, wildlife biologists Al Brothers and Murphy Ray Jr. began formalizing their novel ideas on deer management, which they outlined in their 1975 book, Producing Quality Whitetails. The QDM movement gained momentum in Texas during the 1970s, and was brought to the Southeast in the early 1980s by South Carolina DNR wildlife biologist Joe Hamilton (who later formed the QDMA). Throughout the 1980s and 1990s, QDM gained popularity throughout other portions of the whitetail's range, and by the year 2000, dozens of states and thousands of hunters had implemented QDM programs on millions of acres of private and public lands across the United States. Currently, 24 states implement buck harvest guidelines in at least a portion of their state designed to protect the majority of yearling bucks from harvest; 12 of those states implement the harvest guidelines statewide for at least one buck in the bag limit. A 2013 survey of Bass Pro Shops customers who had purchased deer hunting supplies within the past year showed 82 percent of respondents claimed to follow QDM principles while deer hunting. Without question, QDM is clearly the most desirable and biologically sound deer management approach for today's whitetail herds, and the most enjoyable for the majority of hunters.
QDM Pros
Practicing QDM produces many benefits. Typically, the sex ratio becomes more balanced and the number and proportion of bucks in the older age classes increases. Often, more mature bucks in a population means less participation in the rut by yearlings, reducing stress on these immature bucks. Also, it means an increased presence of mature bucks for sportsmen and women to photograph and hunt. Mature bucks rub and scrape more than young bucks, and they tend to vocalize more, which can add excitement for hunters. Rattling and grunt calls produce more responses from bucks. Deer health and body weights can improve with enhanced habitat conditions, which also benefits numerous other wildlife species. Deer herds in balance with the habitat also help reduce crop damage and deer/vehicle collisions. A few bullet items of benefits include:
Improved balance between deer herds and habitat

Improved habitat for deer and other wildlife species

Improved buck age structures

Improved health of deer herd

Improved knowledge of hunters/conservationists

Improved opportunity to hunt mature bucks

Improved connection between hunters, the habitat, and deer herd
QDM Cons
However, not all sportsmen and women enjoy the benefits of QDM. Where high deer populations exist, initial QDM programs generally result in a temporary reduction in buck harvest and an increased doe harvest. As such, QDM often requires a change in hunting practices and a new mindset, and not all hunters prefer or enjoy this. Some hunters also have a misconception that QDM is actually trophy deer management where bucks cannot be harvested until they are fully mature and at least 5.5 years old. This is not QDM, but it is a misconception that must be managed for. A few bullet items of cons associated with QDM programs include:
The misconception that you have to own large tracts of land to practice QDM

Some hunters forget to have "fun" as they get wrapped up in selective buck harvest and/or increased antlerless harvest

Buck harvest is often reduced during the first one to two years

Some hunters focus too much on antlers

QDM can be a more expensive, time-draining hobby compared to traditional methods of deer hunting

QDM may limit/prohibit access for some hunters
Like anything deer-related, there are two sides to the coin for this popular management strategy. Fortunately, the positives far outshine the negatives, and hunters across the whitetail's range are reaping the benefits of deer herds being managed under QDM guidelines for the past decade or more. For example, in 1999 hunters shot more antlerless deer than antlered bucks for the first time in our history. This was a monumental step toward balancing deer herds with the habitat. The percentage of yearling bucks in the antlered buck harvest has steadily dropped from 62 percent in 1989 to 35 percent in 2016. Amazingly, in 2016 hunters shot more bucks that were 3.5 years and older than 2.5-year-old bucks! Wow, what a great time to be a deer hunter!
For further reading on the differences between QDM and traditional or trophy deer management, click here, and good luck in the woods this fall.