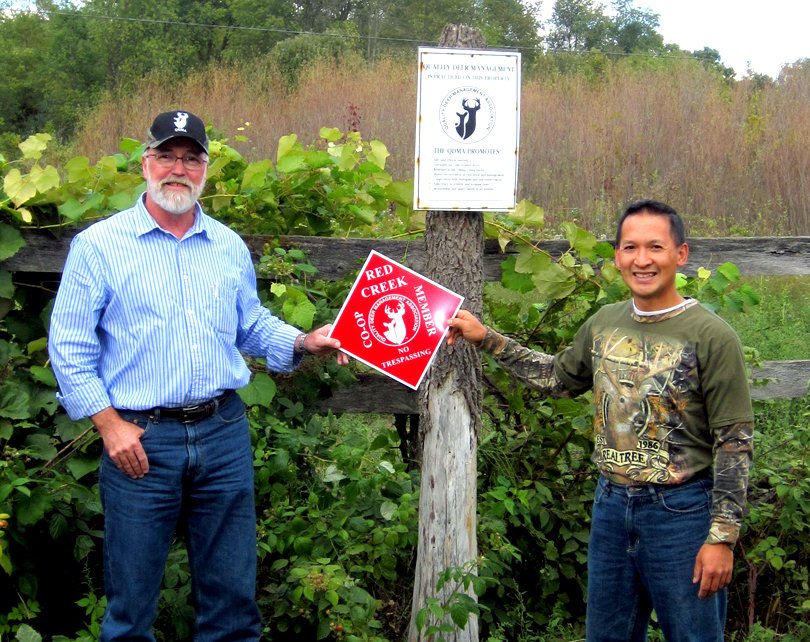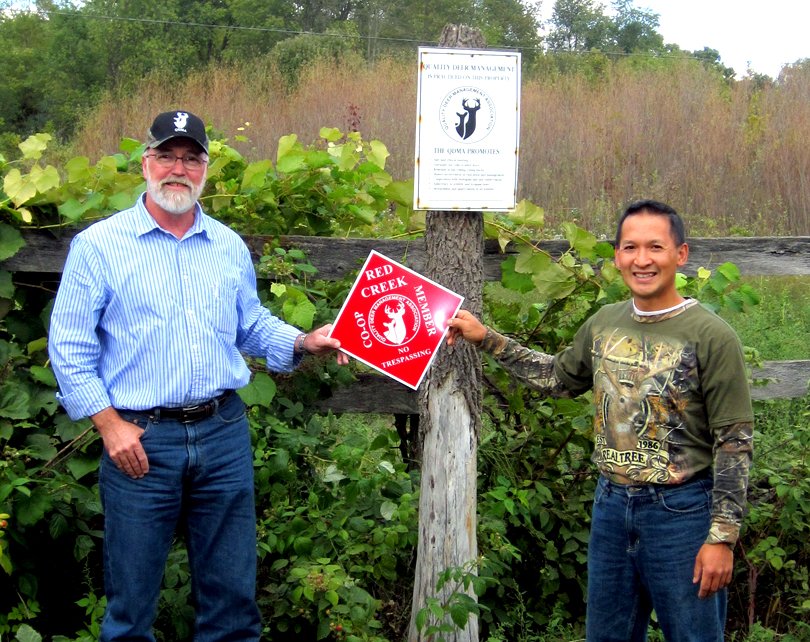 As long as QDMA has produced property boundary signs with messages like "QDM Practiced Here," some people have reacted to them negatively: "You'd be crazy to put that sign on your hunting land! You're inviting poachers and trespassers to come kill big bucks!"
I believe it is more likely that good things will come from these signs. There is a story behind the photo above that is a perfect example.
In 2005, Trieu Pham of Lowell, Michigan (the man on the right in the photo) nailed up a QDMA sign on the road in front of his 80-acre hunting property. He had just purchased the small farm and, being an avid hunter, he wanted to approach his new neighbors about cooperating toward Quality Deer Management goals in the region. He mailed a letter to more than 40 people who owned land in his immediate neighborhood seeking their participation in a formal QDM Cooperative, but after five months no one had responded.
Then, Case Deyoung, another QDMA member from Michigan who lived about five miles away – but outside the range of Trieu's mail campaign – saw the QDMA sign and hit the brakes. Case also had been hoping to start a QDM Cooperative. After meeting, Case and Trieu teamed up to restart the effort to launch a Cooperative, and this time it sparked. Today, the Red Creek QDM Cooperative includes 100 members owning over 9,000 acres of land – all working together toward QDM goals! (Trieu just published a story in a recent issue of Quality Whitetails about his best buck ever, killed last season on his 80-acre farm).
Are there poachers and trespassers in Michigan? Of course there are. But when neighbors form a QDM Cooperative and increase communication, get to know each other, share information, and look out for each other, it becomes much more difficult for scumbags to operate unseen and do what they do. Plus, deer hunting is better across the entire Cooperative, not just on one property, taking any potential focus off one destination. The Red Creek Cooperative, like many others, holds annual family gatherings and meetings and has a lot of fun with the whole process; they are an alliance of ethical hunters, whereas before few of them knew each other. Like many Cooperatives, they work closely with local wildlife law enforcement, too. They are an organized deterrent to poaching in the area.
"The common perception in the Cooperative is that poaching has decreased," Case Deyoung told me. "The more participation we get in the Cooperative, the more local folks know we work closely with DNR law enforcement. It's just another example of the benefits of belonging to a QDM Cooperative."
So, a QDMA boundary sign can lead to good things for its owner. Can it also attract unwanted attention? Or at least, more unwanted attention than the hunting property might have gotten anyway without the sign? It's possible. However, law enforcement officers will tell you that a well-kept, well-maintained, gated property tends to attract less criminal activity because it appears to be used and visited regularly. A QDMA sign, and other types of property and association signs, can be part of that well-kept appearance. Picture a locked gate surrounded by mowed grass, trimmed weeds, a well-maintained property road, and signs advertising this landowner's commitment to forestry, habitat, and wildlife conservation. Now picture a dim, weedy, non-gated, non-Posted property entrance scattered with roadside trash, showing little evidence of landowner activity or presence. Law enforcement officers tell us most trespassers prefer the second entrance. These are woods where they are not likely to encounter the landowner. The Red Creek Cooperative even produced their own customized property signs advertising their network, as you can see in the photo. From a poacher's perspective, these look a lot like a "Neighborhood Watch" sign.
Beyond this consideration, isn't it still illegal to trespass and poach? If a QDMA sign attracts criminal activity, call the local conservation officer. Prosecute someone, and you will go a long way toward fixing your problems and those of surrounding properties. Law enforcement officers tell us that word gets around after a prosecution, and criminal activity drops in the area. That's why, in most cases, they encourage landowners to prosecute trespassers and poachers. It makes their jobs easier.
Certainly, there may be cases where a QDM sign could be a bad thing. The quality and manpower of law enforcement varies across the nation. If you live in a county where the local ranger is seldom seen, where poaching is rampant, where the worst trespasser is the Sheriff's cousin, and where QDM is almost never heard of – then a QDM sign may produce more negative than positive consequences. In the end, each land manager should decide what is best in their case.
But in most cases, a QDM property sign – or any other sign advertising that you proudly manage your land for quality timber or wildlife habitat – is an advantage. It suggests to passing thugs that you take pride in your land and spend a lot of time there, and this won't be an easy property to poach. A QDM property sign can encourage neighboring hunters who practice, or want to practice, QDM. It can break the ice between you and neighbors who want to learn about QDM or join you in your efforts.
As Trieu Pham discovered, a simple sign has made all the difference.
Did you know QDMA has worked to secure grants and support from the National Fish & WIldlife Foundation to study the benefits of QDM Cooperatives and develop new QDM Cooperatives throughout the whitetail's range? Your QDMA membership dollar supports this and many other efforts to ensure the future of white-tailed deer, wildlife habitat and our hunting heritage. Support QDMA by joining today!