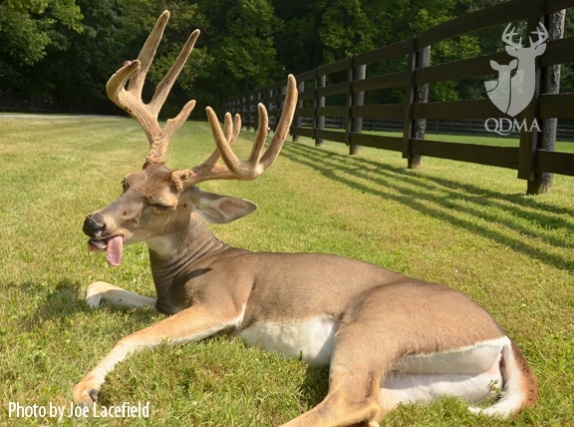 Even in a mild year for EHD and bluetongue viruses, which 2015 appears to be, there are always a few dead deer to be found. The dying buck in the photo above, photographed on September 1 by Kentucky Department of Fish & Wildlife biologist Joe Lacefield, was found struggling to get past this fence in Woodford County in central Kentucky. It was too weak to jump over. Though not all deer that contract these viruses will die, this impressive buck did.
Hemorrhagic disease (the collective name for EHD and bluetongue) pops up every year in late summer and early fall, usually during hot, dry weather when conditions are good for the tiny flying insects that spread the virus from deer to deer. Deer congregate to drink at the few available water sources, where the biting midges also reproduce and swarm. Symptoms include high fever and thirst, so sick and dead deer are often found in or near bodies of water. The two worst outbreaks ever recorded occurred in 2012 and 2007.
According to Lacefield, Kentucky's Woodford and Anderson counties are seeing a relatively severe outbreak this year. "In my immediate area, I'd say it's second to 2007 in severity. We have a little bit of it every year, but I don't typically see this much."
Dr. David Stallknecht of the Southeast Cooperative Wildlife Disease Study (SCWDS) at the University of Georgia, which tests samples from sick deer in a number of states around the nation, said his agency is aware of localized outbreaks in Kentucky, Missouri, North Carolina and Florida, with isolated cases reported in a number of other states, including Montana. In other words, an average year.
"No one is screaming that all the deer are dying, but there are some positive animals out there," Stallknecht said.
He said it would be unlikely for a more serious outbreak like those in 2012 and 2007 to begin this late in a year. As temperatures cool and the first frosts begin to arrive, midge populations decline, and so does transmission of the virus to deer. So, whitetails in most areas have made it past the high-risk time period for 2015.
Even in central Kentucky, where Lacefield said pockets of properties have reported 35 to 40 dead deer, and where new dead deer are still appearing on the banks of the Kentucky River near Lacefield's home, the impact is not catastrophic this year.
"We've got really high deer densities around here," Lacefield said. "In excess of 100 deer per square mile."
Anytime you encounter deer that appear to be sick or dying from disease, report it to the local office of your state wildlife agency.
Further reading: Learn the differences between EHD and chronic wasting disease (CWD). Also,what can be done to prevent EHD?