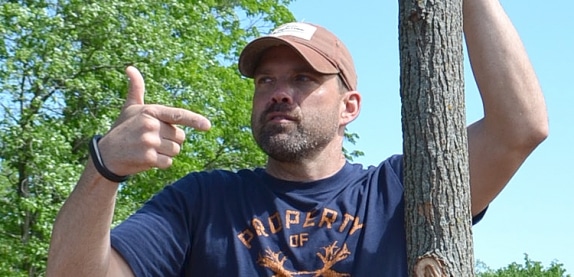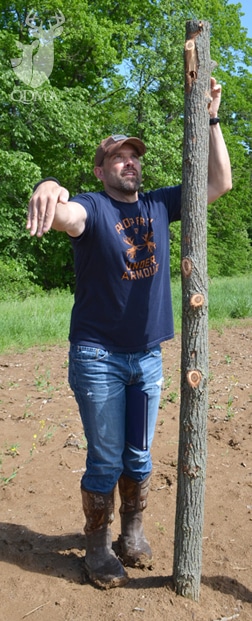 During the field trip portion of a 2013 Deer Steward class in southeast Iowa, we had the great fortune of visiting one of the personal hunting properties of QDMA Life Members and hunting celebrities Lee and Tiffany Lakosky. The Crush TV stars were gracious enough to lead over 60 QDMA members on a tour through bedding areas, woodlots, stand and trail-camera locations, as well as carefully designed and recently planted food plots. Speaking on behalf of the group that day, I can tell you we felt honored to be allowed within this hunting sanctum. Likewise, we could tell that both Lee and Tiffany were genuinely excited to be among fellow QDM'ers who "get" what they do. I can promise you, they are true conservationists.
During the tour, Lee showed the group one of his tactics to lure and stop a buck within archery range when hunting a large field edge. In at least three of his larger hunting-style food plots, where it would be completely possible to have deer in the plot yet well out of bow range, Lee had used a tractor-mounted auger to dig a hole and "plant" a signpost rub about 20 or so yards from his stand.
Lee selects and cuts trees from the property to produce a pole roughly 10 to 12 feet in length and about 4 to 6 inches diameter. He chooses tree species that are typically sought after and rubbed in his area. He limbs them and then drills two, perpendicular, 1½- to 2-inch holes completely through the tree, at different elevations, within the top foot or two of the tree (see the closeup below showing the holes). Just before hunting season starts, he "plants" the pole in the ground and inserts a mock licking branch into one of the holes so that the branch tips are about the height of a deer's head from the ground (He's seen demonstrating this in the photo on the right). He places the pole where deer can view it from any location within the food plot and in a location where he can be just about guaranteed an ethical, close shot with his bow. The licking branch is positioned on the side of the pole that best sets up a shot from the nearby stand.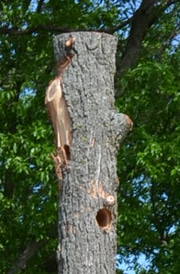 Lee reported that these mock rubs and licking branches end up being visited frequently by deer using the food plot. While it can be difficult to cover large fields with a trail-camera, these signpost rubs also provide a focal point for a camera setup that can better document individual deer visiting the food plot.
You can create your own mock signpost rub with little more than a post-hole digger and a hand saw. The best species to use will vary by region, but in general deer tend to rub more aromatic species, like cedar, pine, sassafras, elm and spruce – though a pole and licking branch of any species placed in the right location is likely to attract signpost behaviors. You could even cut and use a pre-rubbed tree, if you have enough of them around. Lee said it almost seems to be the visual cue of the lone tree in the field that attracts deer to investigate. As soon as one deer leaves scent on the signpost, others are sure to follow.
Pretty innovative, if you ask me. How about you? Do you have any out-of-the-box tactics to stop a buck within archery shooting distance from your stand?  If so, tell us about it in the comments section below.