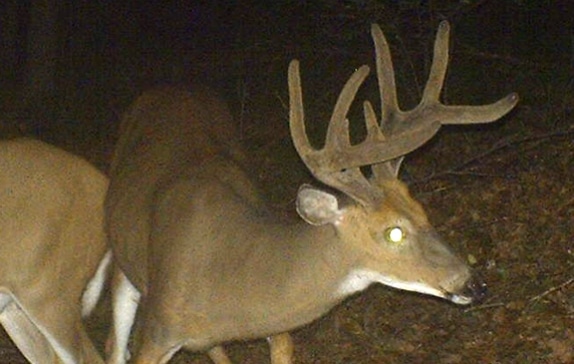 I'm a big sports fan but this article is not about the Yankees, Red Sox, Braves or Cardinals. As exciting as the Fall Classic can be, I'm referring to something far more heart pounding – bachelor groups of bucks. Each summer for the past 10 years I've conducted a trail-camera survey to estimate the adult sex ratio, age structure, and number of deer using our farm. This information helps us determine whether we need to take any antlerless deer and how many to shoot, whether we are meeting our management goals, and what bucks may be running around the woods during the season.
As a biologist I really like the data, but I'm a hunter first, and as a hunter I really, really enjoy seeing pictures of bucks. This is especially true for bachelor groups. A picture of a single buck is good. A picture with two bucks in it is great. Three bucks is really cool, and a picture with four or five bucks in it, well you can't help but smile and say, "Wow"! The pictures in the Gallery below were all taken at the same camera site from August 19 to 24 and include 9 different bucks! When you protect most yearling bucks under a QDM plan, you gain a lot of benefits, and one of them is getting to see large bachelor groups of bucks representing many ages.
During winter, spring and summer, bucks' testosterone levels are low enough for them to enjoy each other's company, and they are routinely found in bachelor groups. Whether at a camera site or feeding in an agricultural field, late summer is a great time to observe bucks. You can easily view different age classes, antler sizes and behaviors. It's a great way to do some pre-season scouting and an even better way to introduce a youth or new hunter to the wonders of nature.
Testosterone levels are currently on the rise and bachelor groups are on the verge of breaking up, so hang a camera over a good food source or visit some agricultural fields in the next week or two. Don't miss out, as the "Boys of Summer" will soon be gone.
Click below to enlarge any of the images in the Gallery.