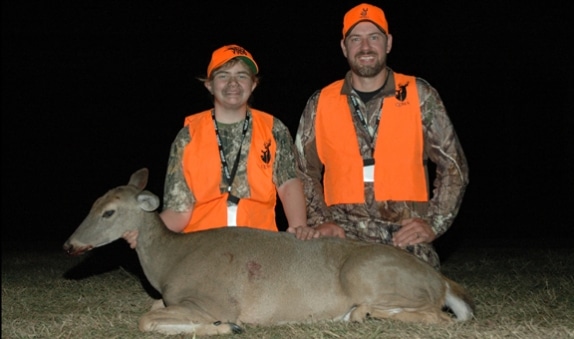 The warm Georgia sun was quickly fading behind the loblolly pines and, with it, any hope I had of Sarah getting a shot at her first deer. It was the last evening of the 2015 NDA National Youth Hunt, and I had been assigned to guide a 12-year-old girl who had never killed a deer. By this point in the hunt, most of the other kids had a deer in the cooler, and the thought of Sarah going home empty-handed was breaking my heart.
With just 20 minutes of legal shooting light left, my hope was restored when two does and a fawn popped out of the thick brush and into the small wheat food plot we had been watching all evening. As I was helping Sarah get positioned to take one of the does, a third, noticeably larger doe came out of the brush just ahead of where the others had entered the field. I quickly refocused my hunter's attention to this larger doe and watched nervously as she steadied her rifle on the shooting rail of the two-man ladder stand and clicked the safety into the off position. I quietly reminded Sarah to follow the back of the front leg one-third of the way up the deer's body and to make sure her trigger pull was nice and smooth. With the bark of the 7mm-08, the doe reared up on her hind legs and in one motion spun around and darted back into the brush from which she had come. To see the the look on Sarah's face and the excitement in her eyes when we found the deer just 30 yards from where she shot it made for a hunt that I will never forget.
I've found that the older I get, the more these kinds of hunts mean to me. It's not my "firsts" or "bests" that I find myself recalling, but instead, it's those special hunts shared with friends and family. Admittedly, it hasn't always been that way. I can remember being a somewhat selfish hunter early on, caring only about how often I could go and what I could shoot.
All that changed years ago, however, when a 13-year-old neighborhood kid I didn't even know knocked on my door and asked if I would take him deer hunting. Kentucky's two-day muzzleloader season was approaching, and the last thing I wanted to do was give up my weekend hunt to take someone else – especially some kid I didn't even know. The fact that I didn't have a hunting mentor growing up, however, was just enough to guilt me into saying yes. Little did I know that watching him kill his first deer that weekend, a small 6-pointer, would forever change my hunting life.
In the years since, I have been fortunate enough to witness several of my friends getting their first deer, or in some cases, their best buck. It wasn't until I started taking my wife and kids with me, though, that I really came to understand what it means to have a memorable hunt! To see them each harvest their first deer, and most every deer since, has meant more to me than any deer I ever put a tag on. The pinnacle of that pride came in 2015 when my then 15-year-old son was able to harvest his best buck on his first solo hunt, as I sat in a tree a few hundred yards away. My hope is that my son and daughter will someday pass that hunting tradition on to their kids.
Sure, it's a great feeling to kill a quality buck, and that is a memory that will certainly last forever, but if you've never taken the time to get someone else involved and help them kill their first deer, then you don't know what you're missing. Not only will you provide them with the excitement of a hunt they'll never forget, but you may also instill a passion that will provide them with a lifetime of such memories. Because, in the end, the measure of a hunt is not in inches of antler, but in the memories made.
Want to learn more about introducing others to hunting? Check out NDA's Mentored Hunting Program for more info on how to start making memories for someone who would love nothing more than to learn from you.