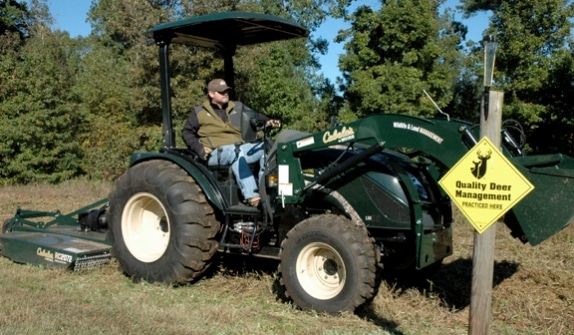 Before you fire up your compact tractor for a new food plot season, it might be a good idea to change your engine fluids and filters. Though most operator's manuals recommend you change vital fluids every 100 hours, you'll prevent trouble if you change them every year – even if you haven't exceeded 100 hours since the last service.
"Changing your fluids and filters annually is the cheapest maintenance prevention," said Ernie Ewing, Parts & Service Senior Manager with Cabela's Wildlife and Land Management in Sidney, Nebraska.
Through a partnership with Cabela's, QDMA has a Cabela's LM35 compact tractor for use at our Headquarters in Georgia. Recently, we ran the first round of service, which is recommended at 50 hours on a brand new tractor – as seen in the video below.
"Change all the fluids and filters after the first 50 hours on a new tractor," Ernie told me. "There can be fine metal particles in the fluids that are left over from the manufacturing process, and you want to go ahead and get those out of there."
The first 50-hour service should include changing:
Fuel filter
Engine oil filter
Engine oil
hydraulic fluid/transmission oil*
hydraulic fluid/transmission oil filter*
*Note that on hydrostatic transmissions, like the one on our Cabela's LM35, hydraulic fluid serves as the transmission fluid, so "hydraulic fluid" and "transmission oil" are referring to the same fluid. In the video, Andy Buck refers to "hydraulic fluid" while the operator's manual calls it "transmission oil."
After the first 50-hour service, change these fluids and filters every 100 hours. However, as Ernie recommended, if you don't run over 100 hours in a single year, change these items before starting a new season in the spring.
The 100-hour or annual service should include changing:
Fuel filter
Engine oil filter
Engine oil
Air filter
The hydraulic fluid/transmission oil filter should be changed every 300 hours after the first 50-hour service.
The air filter should be checked every time you operate the tractor and cleaned if it is excessively clogged with dust or dirt. But replacement can wait for a 100-hour service interval.
Be sure to double check these recommendations against your own tractor's operator's manual and follow any additional maintenance recommended for your specific model of tractor.
Good luck and safe food plotting this year!