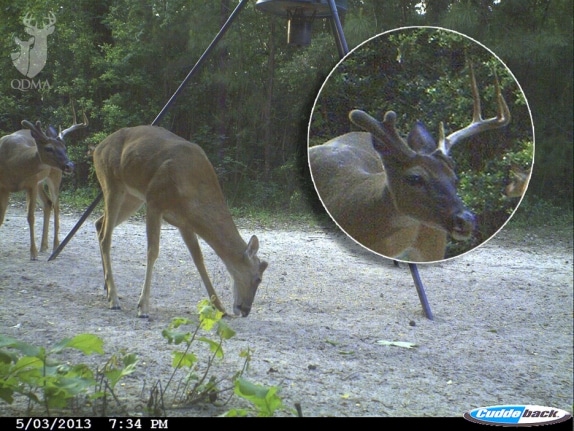 Keith Corley kept his trail-cameras out through winter and spring this year on his East Texas hunting land so he could watch the progress of antler shedding and regrowth while also keeping an eye on feral hog numbers. He ended up witnessing something he never expected to see. One buck in particular held onto his left antler far longer than any other – so long, in fact, that as of May 3 the buck has a nice start on a new right antler while the stubborn old left antler still hasn't shown any signs of letting go!
Keith contacted QDMA through our Ask QDMA link and sent us two photos of this unusual buck. This article is our response, and Keith agreed to let us share his photos and the answers to his questions with our website visitors and QDMA members.
This buck isn't the first to hold onto an old antler while growing new ones. In fact, the condition has a name: Doppelkopf. It's a German word that means "double set," and it's a condition documented in numerous species of deer but rarely in whitetails.
The only other time I ever heard of Doppelkopf antlers was in 2004. An article in our December 2004 issue of Quality Whitetails told the story of "Nu Nu," a 6 1/2-year-old resident of the Deer Lab at the University of Georgia that developed a Doppelkopf antler on one side after sustaining a series of head injuries.
In normal bucks, a cyclical drop in testosterone level in winter triggers the shedding of antlers. In Doppelkopf bucks, something in the cycle fails.
"Abnormal or failed antler casting has been reported in association with the maintenance of high testosterone levels after the breeding season, damage to nerves involved in antler growth, and nutritional stress," wrote the authors of the QW article, including David Osborn and Dr. Karl V. Miller of UGA and antler-growth expert Dr. George Bubenik of the University of Guelph in Ontario.
NuNu suffered a series of head and antler injuries in 2001 and 2002. In 2004, the buck's antlers were sawed off for safety reasons as they were each year, but the right antler stub never shed normally. As you can see in the photos in the Gallery below, the new antler growth grew around and enveloped the old antler, but of course the new growth did not form normally. During the process, researchers actually tried to gently dislodge the old antler stump before new growth began, but it was solidly fixed to the pedicle. NuNu went on to produce a normal left antler and an abnormal right antler. Interestingly, he shed both sides completely the following winter, including the old antler stump, but for the rest of his life his right antler grew with an abnormal spiral assumed to be the result of permanent nerve damage to the pedicle.
In the case of Keith's buck, we don't know the cause, whether head or body injury or some other disruption in the normal testosterone cycle. It appears in the photos that new antler growth has already begun to emerge at the base of the old antler. If NuNu's case is a good example, it isn't likely the buck in Keith's photos will shed the old antler this year but will probably continue to grow an abnormal new antler around the old one. If a head injury was involved, there's the possibility a skull abscess could develop, but otherwise the buck appears healthy.
Keith said the buck is showing up regularly at his feeders now, so he agreed to keep us posted on the buck's strange Doppelkopf antler development. We'll share Keith's updates here, so be sure to follow us on Facebook, Twitter, or sign up for our free e-mail newsletter to stay up with Keith's reports. If the buck stays visible on Keith's trail-cameras, his 2013 antler growth could turn out to be very unusual!