On December 30, NDA member Jay Thompson got a chance to pull memory cards from his trail-cameras in South Carolina, and the photo you see above stood out for obvious reasons. Taken a month earlier on November 30, a series of three photos showed a young buck hobbling along with a seriously maimed or deformed leg.
"That's the one and only time I'm aware of ever seeing that deer at all," said Jay. "No pictures of him before or since. Our deer season is over now, and he wasn't seen or killed by anyone to my knowledge."
I've seen swollen, infected hoofs and limb joints but never in a cluster that nearly envelops an entire leg. I sent the photos to the experts at the Southeast Cooperative Wildlife Disease Study (SCWDS) of the University of Georgia's school of veterinary medicine. It is usually difficult even for experts to accurately diagnose health problems in deer when the only specimen is a trail-camera photo, but Dr. Nicole Nemeth, an associate professor in the Department of Pathology at SCWDS, offered her thoughts.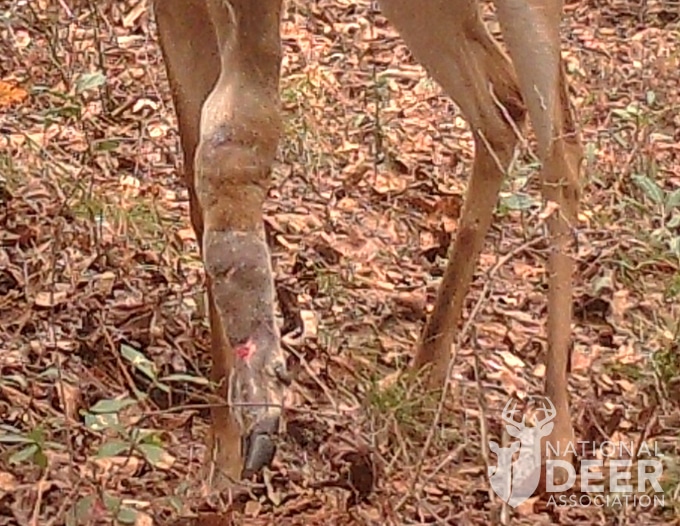 "Just from the look of the photo, and based on what is more commonly diagnosed in deer, I'd suspect either a previous wound, now very infected and spreading up or down the leg, or possibly a wound associated with a fracture, and it's a healing fracture with bony proliferation," said Nicole. "I can't rule out a possible bone tumor, though this is not the site we more often diagnose them in deer. More often bone tumors are on the head. This is more likely chronic infection."
There's no way to know the cause of the buck's condition or whether he'll survive it. Anyone can see he's extremely slim already, so the wound appears to be limiting his ability to find food. But deer often survive very grim injuries and recover. Skeletal injuries in the legs can even affect future antler growth of bucks that survive to grow a new set. Jay said he'll keep me posted if he gets new information on this buck's fate.
Thanks to Jay for sharing his photos with us at the National Deer Association!