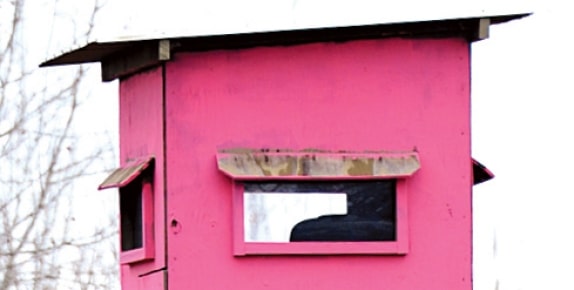 Does color matter when painting your deer stand? That's the question we asked ourselves during the summer of 2012. We were in the process of repainting a few of our permanent tree stands at Longfork Farms in central Louisiana and were debating which color to use. Then, in a moment of humor, we asked ourselves – what's the craziest color we could paint one of these stands to see if it matters to the deer in the area?
Well, we decided hot pink would be perfect! So, we painted the stand seen above and anxiously awaited hunting season.
Prior to the season, we conducted our annual trail-camera survey and placed a camera approximately 75 yards from this stand, as we have in years past. As usual, we had many pictures of mature bucks, and the numbers of pictures were unchanged from previous years. But the proof would be in the hunting. Would deer seem to care in the daylight that this stand was hot pink?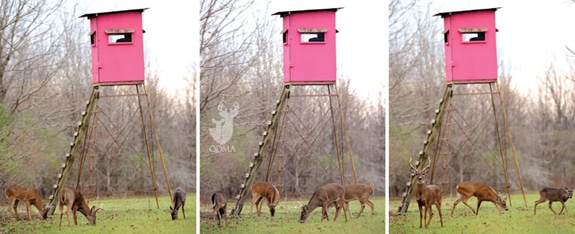 The short answer was a resounding no, as you can see in the photos above. The numbers of deer observed per day from this stand did not decline from previous years. Likewise, deer readily approached the stand, fed around and even under it, and seemed completely unconcerned with the stand's appearance.
The take-home point to us was obvious: It's our actions as hunters that dictate deer behavior around our stand sites, not the color of stands that deer see as permanent fixtures in their environment.
This is a good example of the kinds of questions you can ask, and answer for yourself, when you collect data through trail-camera surveys, recorded hunter observations, and other methods that are part of the Herd Monitoring Cornerstone of QDM.
About the Authors: Bill Mitchell is a teacher and coach at Dutchtown High School in Geismar, Louisiana. Bill is a long-time member of QDMA and has completed the Deer Steward I and II classes. He is an avid deer hunter and is passionate about sustainable management of quality deer herds.
Dr. Mike Chamberlain is a professor of wildlife ecology and management at the Warnell School of Forestry and Natural Resources, University of Georgia, and a QDMA member. Mike conducts applied research on a number of game species, including white-tailed deer.